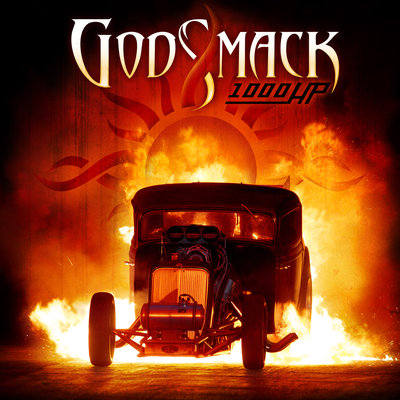 1000hp by American hard rock band Godsmack is an ironically rumbling, yet monotonous compilation of self-deprecating and upsetting lyrics on themes of the hardships of life. Very much like their lyrics, the instrumentals are crude and saddening to the listener's ears. Regardless of being one of the few modern hard rock bands that still exist today, Godsmack maintains an unoriginal sound, consisting of bland guitar riffs, and mediocre vocals.
The American rock group formed in 1995, in Lawrence, Massachusetts. The band is composed of singer/songwriter Sully Erna, Tony Rombola on the guitar, Robbie Merrill on the bass, and Shannon Larkin on drums. Having released five albums since 1995, the band has been with record label Universal Records.
The band's sixth album circulates around unsettling themes, specifically, an identity crisis and hatred towards others. The album defines itself in its title track, "1000hp", which is a barbaric song whose meaning I could not quite identify. The song emanated auras of grey and black, tempting me to stop listening to the rest of the album. Lyrics such as "Make it all go faster!/ Play it through the witching power!/ Take it to one thousand horsepower!" left me utterly embarrassed and in need of silence. Other tracks that epitomize the album's themes are "Turning to Stone" and "Living in the Gray," which both revolve around self-hatred.
Under the influence of hard rock bands such as Metallica, Five Finger Death Punch, and Korn, 1000hp contains messages of the hardships of life throughout its tracks. Lyrics like " I see right through you, worthless man/ You seem to underestimate who I am/ 'Cause I'll break your face" in track "Locked and Loaded" are incredibly crude, almost to the point where it's silly. The said lyrics showcase how cold-hearted and wicked the entire album is. Each track is so similar to its predecessor, both in lyrics and sound, that it might as well be simply just one song.
Also, with lyrics such as "All this noise in my head/ Ringing through and echoing/ Simple things just take too long, long, long," it seems to be difficult to remain joyful. Also, the aforementioned lyrics represent how I felt upon listening to the song itself.
On a grade scale, Godsmack's sixth album would earn itself a D, which may or may not stand for disappointment. Though lively and passionate, 1000hp  is not worth the effort of listening.