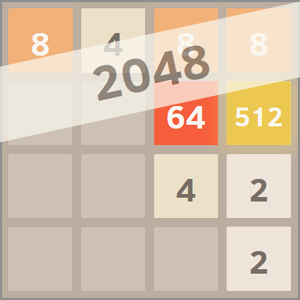 A new crave has been circulating the school. It doesn't have anything to do with pop culture, music, or drama. Instead, it all about math! 2048 is the addictive new brain game that is sweeping the school and causing people to whoop in excitement or sigh in frustration. This addicting game is both tricky and persistent, and unlike other games, this one very rarely leads to any negative actions or thoughts.
The actions in this app are simple enough: you simply swipe the numbered cubes up, down, or side to side in order to pair up the matching numbers. Once those two matching numbers are paired, they multiply each other to create a larger digit, which you must then pair with its twin.
Although the concept of this game sounds simple enough, make no mistake, it is D-I-F-F-I-C-U-L-T. Every time you make a swipe, another number pops up, and if you fail to pair them, and run out of room, you will lose. Your goal is to multiply so many numbers that you eventually get to the number 2048. This is harder than it seems.
This game does not require many graphics, or colors, but the earthy color scheme does well to keep you calm and focused. One of the best features of the game is that your score is placed right next to your high score at the top of the screen, which is a great motivator.
2048 is incredibly fun, but it is challenging. It is a brain game that is sure to get you hooked.
Download: