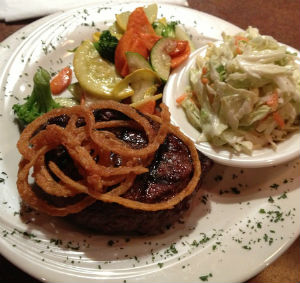 Village Pub is a great place to eat classic American foods including burgers, chicken wings and steaks. Making you feel at home, Village Pub offers all the wonderful food you could imagine.
With Village Pub also functioning as a poker bar, they section that part of the restaurant off so customers will not have smoke blowing in their face while dining there.
First thing my family and I ordered was an appetizer of chicken fingers served with ranch for $6.99. All appetizers were half off because it was Happy Hour, which is from 7 p.m. – 10 p.m. on weekdays. The chicken fingers were lightly breaded and we had the choice of making them HOT, mild, or just original. This part of our meal was great, the chicken fingers were spicy, tasty, and we could not get enough.
After finishing the chicken fingers, we ordered the signature chicken pot pie with peas and carrots ($13.95) along with a house side salad with ranch dressing on top. We also ordered the famous pub steak served with vegetables, a side salad, and coleslaw ($10.99). Lastly, a 100% angus beef burger with mozzarella cheese accompanied with steak fries ($9.99). The All-American style food was very satisfying and when it was all gone, I wished there was more coming to my table.
Village Pub is inexpensive and provides a variety of meals to satisfy the whole family. The service is fantastic and they always make sure their customers are attended to. Going to Village Pub is a great experience from the food to the people.
Grade: A-

View Larger Map
Operating Hours:
Open Daily 24 hours