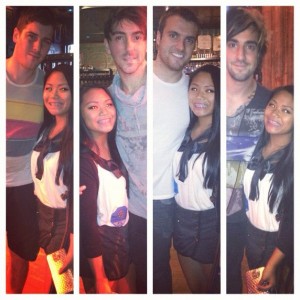 All Time Low is a band of four talented and humorous boys from Baltimore, Maryland: Alex Gaskarth, frontman and lead guitarist, Jack Barakat, guitarist, Zack Merrick, bassist, and Rian Dawson, drummer. The boys gained immediate stardom when they released "Dear Maria, Count Me In,"  in 2007, now a gold record, . Since then, their fan base has continued to increase rapidly. All Time Low just released their fifth studio album, "Don't Panic," and are currently on their fall 2012 tour, which recently stopped in Las Vegas, Nevada at the House of Blues in Mandalay Bay.
Southwest Shadow: What are you guys expecting from the show tonight?
ZM: A lot of me jumping, as usual. I see a lot of kids staring at me and calling my name; it's pretty cool. I like to see kids jumping when I'm performing. When I see kids jumping, that lets me know that my band is doing a great job at entertaining them. It also lets me know that they are having a fun time at the show. It's Vegas; these kids know how to party.
Southwest Shadow: What makes "Don't Panic" different from your other albums?
AG: It's our story. We talk about what we've been through together as a band, like leaving Interscope Records to go back to Hopeless [Records]. It's just about picking ourselves back up again. This whole story we've been through is what influenced us to write the album. It's the most personal album that we have written so far.

Loading ...
Southwest Shadow: What is your favorite song off of "Don't Panic?"
JB: I am torn between "Backseat Serenade" and "Somewhere In Neverland." They have more of a pop feel to them and pop is more of my thing. That's why those songs are my favorite.
Southwest Shadow: How did you feel about your song being played at your favorite football team's home game?
RD: Alex and I were just sitting on our couches at home, casually watching the Ravens' game and out of nowhere, we hear "For Baltimore" playing and we just couldn't believe it. It was just way too unbelievable. I would've never expected to even hear any of our songs playing anywhere, especially at our favorite team's home football game.