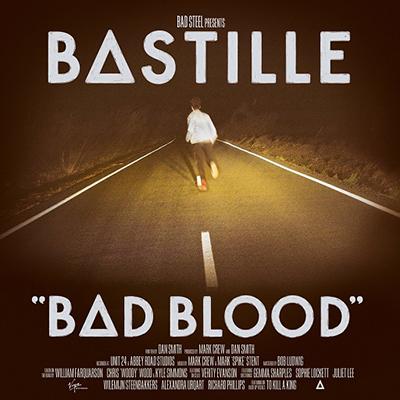 Sprouted from a solo project, singer/songwriter Dan Smith chose a group of friends to form the band Bastille in London, England in 2010. Attracting attention from tracks placed online and performances at major U.K. festivals like Glastonbury and the Isle of Wight scored the band a deal with the hip indie label Young and Lost Club. And with release of their debut singles, "Flaws" and "Icarus," an audience was found for the neo-synth pop group.
In comparison to the previous singles, Bad Blood sticks with the neo-synth pop sound, but switches to lyrics that have a more dramatic, touching tone compared to not having any meaning at all. This is apparent in "Oblivion," with the line, "Are you going to age with grace?/Are you going to age without mistakes?/Are you going to age with grace/Or only to wake and hide your face?" which questions a loved one because they chose to leave without a second thought. This is true emotion is achieved through Smith's swooping voice paired with lyrics that are molded around events people would consider to be life-changing.
For much of the album, Bastille chooses to do a consistent comparison to how one was before and what was lost in a self-battle. An example of that is from, "Weight of Living Pt. II,"  with the line, "All that you desired, when you were a child," and, "Now that you're here, suddenly you fear/you've lost control." This song is a reflection of not only the album, but the band itself as it implies the hardships each member must've faced in order to achieve their success today.
In short, for those who like music that is '80s-inspired with a touch of neo-synth pop, make this the next album you buy.

[soundcloud url="https://api.soundcloud.com/tracks/54053231″ params="color=ff6600&auto_play=false&show_artwork=true" width="100%" height="166″ iframe="true" /]