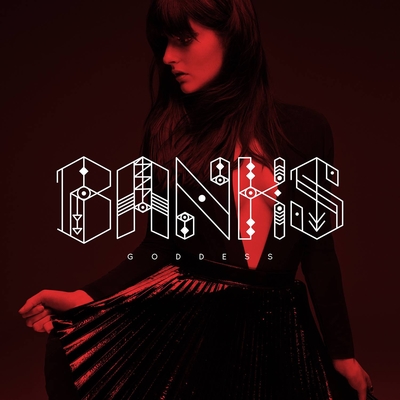 Los-Angeles native Banks slides into the music scene with a conglomerate of digital darkness and eerie effervescence. Titled Goddess, her full-length debut album is the poster child for modernized music, but it lacks the same craze that erupted when she teased newfound fans with sneak-peeks of "Change," "Brain" and "Warm Water."
Rather than on the pursuit of fame, Jillian Rose Banks stumbled into the music scene after years of holding it close as a therapeutic escape from family issues during her teenage years. After posting her first song, "Before I Ever Met You," on Soundcloud, she received over 50,000 plays that marked the start of her career and propelled her into collaborations with top artists, such as SOHN and Totally Enormous Extinct Dinosaurs.
The core of Goddess is Banks' dysphoric take on sorrow and regret. Her biting lyrics harmonize with the tantalizing downbeat of "You Should Know Where I'm Coming From," when she wails with distinct grief in her sinewy, antiseptic voice: "Maybe you can stop before you start/Maybe you can see that I just may be too crazy to love/If I told you solitude fits me like a glove/Would you let me out?" Although the lyrics are strikingly simple, they are the maxims of a heart heavy with burden and bereavement, unraveling a softer, more sentimental side of Banks' stoic figure.
With bass beats and synth streaks closing in from all directions, the album is as immersive and cinematic as a 4D IMAX theater screening. Unfortunately, there's a point where more equals less. Banks' tendency to synthesize irresponsibly does nothing more than leave a bitter taste in my mouth. Its choppy, mismatched bass and percussion lines in "Stick" feel like skipped heartbeats that leave gaps in the melancholic tide of the album.
Surplus of synth aside, Goddess does have its peak points. Between "Waiting Game" and "Someone New," Banks showcases her versatility with the rigidness of the former and the serenity of the latter. Her ability to depict the deepest, darkest corners of heartbreak with opposite music styles offsets the murky, muddled mess of the remainder of the album.
With its clunky instrumentals and somber strides, Banks' Goddess earns a solid B-  on an A-F scale. Although the album is nothing new to electronica and R&B fans, the up-and-coming artist's debut release showcases her undeniable talent in producing music that is both magnetic and mesmerizing.
[soundcloud url="https://api.soundcloud.com/tracks/150271464″ params="auto_play=false&hide_related=false&show_comments=false&show_user=true&show_reposts=false&visual=true" width="100%" height="450″ iframe="true" /]