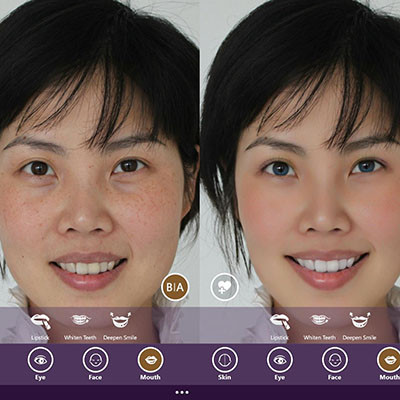 Everybody knows the process of taking pictures. You move around until you get the perfect pose before smiling into the brilliant flash as your finger blurs over the snap button relentlessly. After multiple shots are taken, you scroll through to find the best of the bunch. Sometimes, none of them appeal to you at all due to physical or emotional insecurities.
Perfect365 is the editing app that can fix your makeup and even adjust your teeth and hair. It cancels out all those extra steps of adjusting and deleting, while transforming Ugly Betty into the next top model.
Unlike other editing apps, Perfect365 makes all of the editing look natural. The app offers adjustments to your makeup, eyes, skin, eyebrows, hair, blemish control, dark circles, teeth whitening, and more. You can either create a moderate look, or a completely crazy one. For example, if you go all out on the makeup and even include crazy colored contacts and an unusual hairstyle, you may just end up looking like an extraterrestrial. This app takes practice to become perfect, but the results are professional and astounding.
For any individual who abhors the average cycle that we obtain to land a great picture, this app will shorten and enlighten this process. No longer do you have to worry about imperfections before you try to capture the moment.
Download: