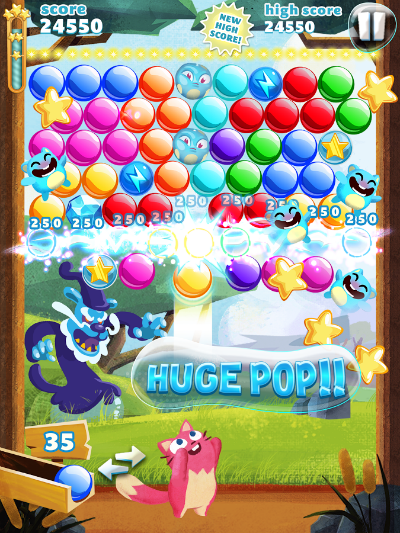 Bubble Mania is a fun and easy way to spend time for those that want to give their minds a short break. While there are already plenty of Bubble popping games, such as 'Bubble Witch Saga' and  'Bust a Move,' the addition of this new game won't make much difference to the buyer. Frankly, the game is quite boring and will be just another app taking up storage in your phone.
In this game, the player must shoot a colored bubble to a similarly colored bubble group, and once there are at least three in a group, they will pop. The player can only shoot one colored bubble at a time, and their primary goal is to pop all of the bubbles on the screen.
There are five levels per chapter, and every chapter is portrayed as a separate island with a unique theme. As far as my experience goes, there are more than enough chapters to satisfy a player. Each time you finish a level you are awarded between one to three stars depending on your score, and once all five levels in a chapter are completed, a new chapter begins. The difficulty of the game increases in terms of added challenges, such as a limit of bubbles, bubbles that you cannot pop, and bubbles that you should not pop.
This app does not require a lot of brain power and the longer you play it, the more adept you will become. It is simple and a great stress reliever, but it is one of many and in no way unique.
Download