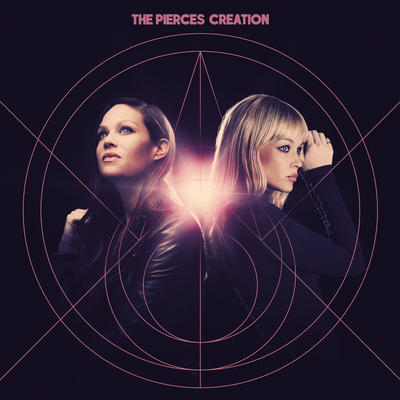 The Pierces, consisting of siblings Alison and Catherine Pierce, revive their trademark mysterious sound in their fifth studio album, Creation. The instrumentals mirror the Pierces' voices, becoming a tranquil and light-hearted third harmony that emanates the true definitions of adventure and romance.
Having been influenced by folk rock duo Simon and Garfunkel, the Pierces may be considered their female doppelgänger. Due to this, their sound could be mistaken for singers Lana Del Rey or Florence and the Machine. Both sing in harmony, however, Alison provides the guitar, while Catherine performs the percussion aspect of the album. Nearly all of their previous work covers similar themes, along with their signature enigmatic sound. Since their first album, the sisters have been with record label Polydor.
The Pierces' fifth album opens up with the ethereal "Creation," offering calming and euphonious harmonies by the siblings as they carol endearing words of admiration to a lover. With lyrics such as "You're the creation/ You're the reason/ You're the rising sun and colors in my mind," and soft acoustic instrumentals, it becomes a challenge to remain anything but relaxed. As the album progresses, the music begins to become more similar to a drizzling rain, melancholy yet clinquant.
The duo shows its adventurous side through tracks "Kings" and "I Can Feel." While "Kings" elaborates on how one can defeat their problems and conquer all, "I Can Feel" expresses how one can explore and do whatever they want. Both tracks are equally as pleasant and uplifting, spiritually and emotionally.
The sisters' voices combine and echo gracefully in one, fitting into one another like Yin and Yang. One of the main aspects of the album is loneliness, which is present in the track "The Devil is a Lonely Night." The track's most significant lyrics are "Darkness falls and my heart calls/ It's crying out for you," which emphasizes and expresses the underlying tone of the album's romance and nostalgia. Ending track "Flesh and Bone" expresses the album's heartbroken side, with lyrics such as "New love is not best love/Pull me down and rough me up." Gentle instrumentals and vocals, added with heartfelt lyrics that are painfully relatable calls for an intriguing and affectionate compilation.
On a grade scale of A-F, The Pierces' Creation earns itself an A for its tender instrumentals and sentimental twist on folk rock. The album is distinct for its glassy and radiant sound, as it defies the norm of music today.