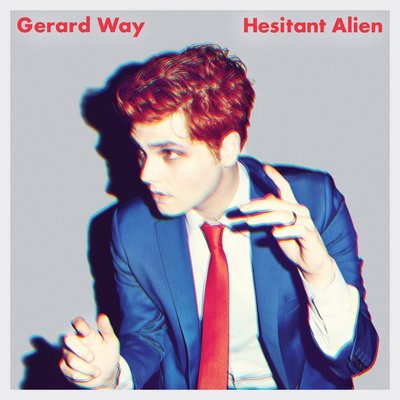 Hesitant Alien is the debut album of former member of My Chemical Romance, Gerard Way, rumbling and shattering the earth with fuzzed guitar riffs and echoing drum beats that tell a familiar tale of heartbreak and loneliness. Composing such a nostalgic and enigmatic selection, Way has far exceeded my expectations and reached his full potential.
Since My Chemical Romance's disbandment in early 2013, frontman Way has taken a break from the hardcore side of music and headed towards a more alternative and grunge sound. Despite the breakup, he is still signed with record label Warners Bros. Records.
Thundering and booming, Hesitant Alien introduces itself in its first track,"The Bureau," a late 70s rock-esque song about partying. With features such as its rhythmic and heavy drum beats and psychedelic organ, the track summons inner bouts of rebellion. Way's scratchy and rugged vocals complete the track itself and tie it into the pure definition of rock and roll. Lyrics such as "Everybody keep calm tonight/Everybody we're going to live tonight," encourages independence and adventure, ultimately becoming an anthem of the teenage dream. The track itself appeals phonetically, emanating auras of cool blacks and whites; however, after a while, it becomes repetitive and droning.
As the album progressed, I had come to the realization that each track becomes more appealing than its predecessor. After "The Bureau" faded away from my speakers, "Action Cat" replaced the three seconds of silence with sounds of American rock, intoxicating guitar riffs and all. Upon listening to the track, the urge to rock out surged through my veins like bolts of electricity. The track tells a story of two ex-lovers and their battle of missing each other. While the song was vibrant and upbeat, the meaning hiding behind the roaring instrumentals holds a kindred theme that my teenage heart relates to. The lyrics "We can make it up again/We don't care we just pretend," are painfully bittersweet like icicles piercing through a heart, instantly becoming my favorite lyrics of the album.
Similar to Julian Casablancas, Hayley Williams and Patrick Stump, Hesitant Alien orbits around themes of needing and missing someone. Lyrics such as "Brother if you have the chance to pick me up/Can I sleep on your couch to pound the ache and pain?" in the track "Brother" are disheartening, while the instrumentals are melodic and sweet to the ears. Despite this, the song went on for nearly five minutes, which was far too long for my complete enjoyment. Sitting through five minutes of loneliness quickly brought my mood down to the point where I felt that I needed someone to lift the bad spirits up.
On a grade scale of A-F, Gerard Way's debut album earns itself an A, as it exceeded my expectations and touched my heart in a way no other song could. Fans of My Chemical Romance will find themselves marvelling on Way's independent art.