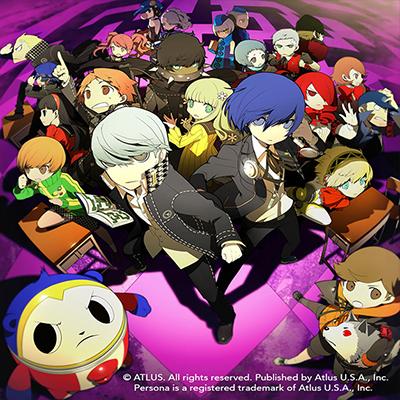 "Persona Q: Shadow of the Labyrinth" manages to successfully combine the iconic series of both "Etrian Odyssey" and "Persona" creating a game that will engage the player in an enjoyable, yet challenging dungeon crawler.
Taking place during a cultural festival at Yasogami High School in Inaba, a fictional town in Japan, an Investigation Team assigned to keep watch on the school somehow becomes trapped within it. At the same time, students who are part of the Specialized Extracurricular Execution Squad (SEES) at Gekkoukan High School are transported to Yasogami. When the two groups meet up, they discover a labyrinth hidden beneath the school and encounter the adventurers Zen and Rei, who then try to lead the teams to freedom.
Right off the bat, I must admit that my favorite part about "Persona Q: Shadow of the Labyrinth" is the love that it shows for a long-time "Persona" fan like myself by incorporating the cast from previous  "Persona" games. I enjoyed how the player was allowed to side with either of the protagonists from the previous games and though it was not a puzzle, I would easily consider it to be one of the toughest situations in the game. I had to consider the skills both offered, but in the end, I played through both just to see the different dialogue options that were offered and how it would effect the story.
Though it is not enough to hinder the game, I cannot hide the slight disappointment I have towards the plot and the amount of emphasis it had on newcomers Rei and Zen. The two did show that their intention was to help the main cast escape their imprisonment at Yasogami High, but it took too long to understand who they were and why they chose to help through the series of dungeons.
I tend to find puzzle-based games to be difficult at first glance from the amount of thought that must be put in to complete it, but courtesy to the "Etrian Odyssey"-like style of the labyrinth, I found myself immersed in the gameplay. The ability to explore the dungeon interface made me feel like a genuine explorer as I navigated the numerous puzzle-filled floors. Though I am not one to spend too much time on a puzzle, I felt inclined to solve one to avoid having to fight the same type of foes over again.
With a diverse plethora of warfare and authentic exploration, "Persona Q: Shadow of the Labyrinth" manifests a unique allure that is a breathtaking ride from the opening to the closing credits. Though it may be a puzzle-based game that requires a great deal of thought to complete, it should be considered a work of art.