Taking notes on the go and trying to find an easy way to sort documents on your phone or computer can be a hassle. With "Evernote," arranging your information can be done with the touch of a screen.
The first task you will be prompted with when installing "Evernote" is creating an account with an e-mail. Then, the app breezes you through a tutorial of its many functions, but I quickly found myself having to go back and play the tutorial again—I had trouble remembering where everything was and what all the functions did. While the app is seemingly straightforward, the numerous actions it performs makes it busy and slightly cluttered.
"Evernote" breaks down your organization into three main levels: stacks, notebooks and notes. The individual notes are available in the form of images, documents, reminders, handwriting and text. These notes are sorted by tags and put into notebooks, which are then filed into stacks. The first thought that came to my head was to create notebooks for each of my classes, then file them into a stack for school, meaning I could easily access any notes I make for a certain class.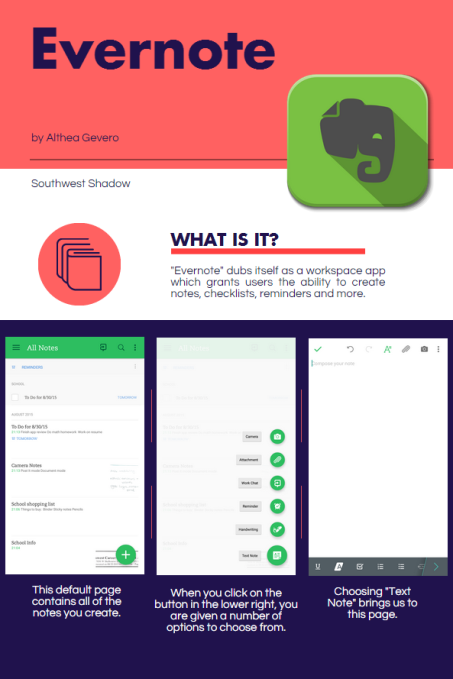 As I continued to explore "Evernote," I found it easier to navigate once I had created all the notebooks and stacks I wanted. Due to the app's countless functions, it is meant to be utilized on a regular basis and works best when used to its full potential. In other words, this app is not for those who simply want to write down a quick memo every once in a while, but rather for those who will fill it up with notes, reminders and checklists for their day to day lives. I found the checklist function to be useful, as you can make a list of tasks you need to complete and set a reminder for the app to notify you later.
Another handy use for "Evernote" is bookmarking items for research. If you come across an image or article on the Internet you want to save for later, you can add it to the app. You can then tag it and sort it into a notebook like other notes. In addition, "Evernote" has the ability to take photos that can also be sorted accordingly. There are different camera modes such as "Document," which whitens the background of the text in your photo and makes it appear as if it were an actual document.
The app is also able to sync across devices; if you make a note on your phone, it will  be available when using "Evernote" on a computer. However, a major downside to the app is that if you want to access your notes offline, you have to upgrade to a paid membership. Even then, the amount of storage it would take to use "Evernote" offline may not be worth it.
"Evernote" has an impressive amount of structure and management—to the point where it is only useful for those who are committed to learning the app's myriad of functions. The app is slightly chaotic on smaller devices, but the options for organizing and taking memos (even in the free version) are exceptional.