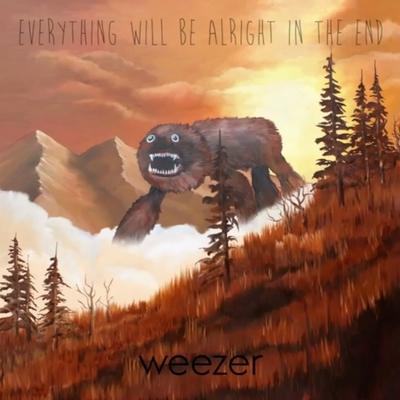 With their first album in four years, Weezer returns with the usual: rugged, reckless rock and roll that has a taste for quirkiness. Spinning under Republic Records, "Everything Will Be Alright In The End" is the apex of the quartet's modern turnaround, but it is hardly effective in soothing the burns from their declining success.
It was as if frontman Rivers Cuomo pulled Weezer out of his back pocket. Along with bassist Scott Shriner, drummer Patrick Wilson and guitarist Brian Bell, the singer/songwriter steered the alt-rock project into success with his iconic songwriting. The four-man band reigned during the late '90s and early '00s with top rock tracks "Island In The Sun" and "Say It Ain't So." However, the sudden shift to pop with the 2009 album "Raditude" called for heavy criticism that questioned their decision to stray away from their central core of rock.
"Everything Will Be Alright In The End" was only one of the many attempts to revert back to their geeky, classic rock vibe, but was only successful in putting Weezer on overdrive. Within the first few seconds of the leading track "Ain't Got Nobody," I was bombarded with disheveled, grungy guitar riffs that sounded too dark for their upbeat, playful image.
Cuomo's knack for a tasteful melody is undeniable. The rowdy, lighthearted melody of "Go Away" lingered in my ears even until after I had called it a night. However, paired with his mundanely simplistic lyrics "Go away, go away/Don't come back here anymore/Go away," his songwriting prowess was cut short.
Each song, whether it was the piano ballad of "II. Anonymous" or underground rumbles of "Eulogy For A Rock Band," did not flow smoothly as I listened to the entire album. Cuomo's voice was the glue that held each song together, making for a lopsided 13-track. Although his vocals have been echoing for the past 20 years, they were often overpowered by the reckless instrumentals in "Everything Will Be Alright In The End." The shredding guitar riffs and clashing drum lines were like a head-on collision that made my listening experience unpleasant.
Weezer's "Everything Will Be Alright" is the best album that they have released since their return to old ways. However its tendency to overdo its instrumentals and "under-do" its depth makes it a clear contender for a flat C on an A-F grade scale. Weezer fans will be slightly satisfied about the group's classic rock revival, but still yearning for the true potential that shone through during their early years.