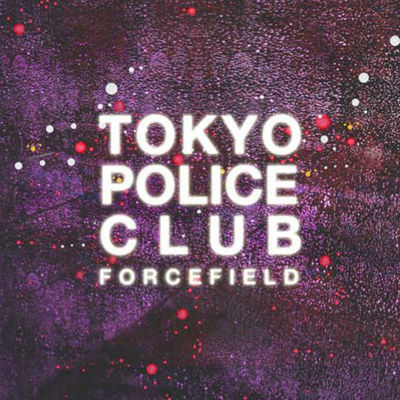 Indie rock group Tokyo Police Club shatters a generation of misconceptions about indie rock with their fourth studio album, Forcefield. The album covers a variety of subjects such as love, hate, cheating in relationships and personal struggles in life. The highs and lows of lead singer and bassist David Monk's life shine through the soulful lyrics. Though the lyrics are soulful and depressing, the beats of the album are usually strong and uplifting.
Tokyo Police Club consists of Monks, keyboardist Graham Wright, guitarist Josh Hook, and drummer Greg Alsop. Forming in 2005 in Newmarket, Ontario, Canada, the group had recently disbanded from a band called Suburbia before playing small gigs throughout Toronto, Canada. After a short while, the group was asked to play in the Pop Montreal Festival, where they were discovered and signed to Paper Bag Records.
Forcefield is the essence of both fun and distress, showcasing the excitement of youth, and the highs and lows of relationships. Songs such as "Through The Wire," and "Tunnel Vision," takes the listener on a journey with a man who is irrevocably in love, shown in lyrics such as "I'm killing time until I see her/ So many days but I don't care," and "One lover turns to me/ You are not crying/ For me." These soulful and realistic lyrics give a peek into the life of a real person, rather than an over-produced pop-star.
Fans of the Tokyo Police Club will be impressed by their growth over their past four albums. Though Forcefield takes a more soothing and less harsh approach to their usual style of music, tones of their previous albums still shine through. Songs such as "Hot Tonight," and "Gonna Be Ready," revert back to their previous albums, and have more of a party theme.
On a grade scale, Forcefield receives a B+. The album will be a hit for previous listeners, but may beat to the same drum as plenty of other groups. Overall, the the album is fresh for the band, and includes a variety of different types of songs, yet these titles may be too much like other groups.
[soundcloud url="https://api.soundcloud.com/tracks/128564663″ params="auto_play=false&hide_related=false&visual=true" width="100%" height="450″ iframe="true" /]