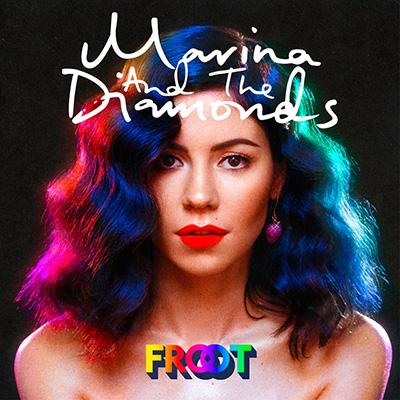 "Froot," the third album released by Greek-Welsh singer Marina Diamandis, also known as Marina and the Diamonds, serves as an eccentric set of self-redeemed glory and happiness. With the significance of aesthetic appeal, along with "Vaporwave" themes on the rise, this fruitful selection is an exemplary delicacy that could be the auditory equivalent of freshly picked peaches and apples.
As an underground artist, Diamandis creates most of her own material by herself, despite having been signed to record label 679. Also because of this, the Greek singer is popular on the blogging platform Tumblr, for her signature style, and from her second album, "Electra Heart." Diamandis is well known for her trademark heart, which is donned on her cheek, and songs that pertain to coming of age and the teenage years.
Compared to its predecessors, "Froot" is a clear sign of Diamandis' growing self acceptance and character development. Her first album, "The Family Jewels," amplified the artist's lack of feeling and inability to see anything good in the world. Its successor, "Electra Heart," is considered one of her best works, as it is an antithesis on the paradigm of womanly archetypes, the teenage years and the rise and fall of love. Clearly, Diamandis' two first albums display nostalgia and pain, whereas "Froot" is upbeat and shines in prideful glory.
The album, despite its bubbly image, starts with the bittersweet track, "
Happy
," soft and emotional in its melodic hymns. The song exhibited themes of finding true happiness, despite the melancholia and nostalgia it undeniably harbors. Tear-jerking and sweet, Diamandis sings, "I found what I've been looking for in myself/Found a life worth living for someone else/Never thought that I could be happy."
A personal favorite on the album was "Gold," a beachy and delectably adorable track that magnifies the joy of freedom and having the famous Midas touch. With a bubbly tune that put the image of a summer day through my mind, "Gold" instantly became a repeated song through my earphones. Themes of freedom and fun are apparent through the lyrics "In El Dorado, your gold/To Colorado can't be bought or sold/Now there's no moral to the story/But I can hear my freedom calling me." Because of its sparkling energy, the song is a triumphant reminder that summer is not so far away.
By the final echoes of the last song on the album, I reached a higher place in spirit, its ethereal energy radiating in soft waves. In comparison to the singer's previous albums, "Froot" is the ultimate mother in Diamandis' repertoire, as it manifests the intensity of its predecessors and turning it into pure euphoria.