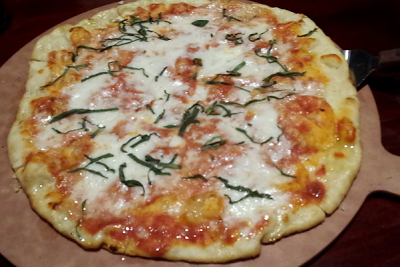 GameWorks
6587 Las Vegas Blvd Suite 171
Las Vegas, NV 89119
Sunday-Thursday 11am – 12am
Friday-Saturday 11am – 1am
Tucked underneath AMC Town Square sits the highly anticipated restaurant/arcade/entertainment extravaganza aptly named GameWorks. The unique business opened their doors to the Las Vegas public on July 31, and I was more than a little curious to poke my head in and see what the business had to offer.
Spanning quite a large area, when seen from the outside GameWorks seems like any other restaurant; A few patio tables and slightly tinted windows give few hints to what could be inside. Upon entering, I was surprised to see just how spacious the restaurant was, and my expectations heightened as it was beginning to be clear that there was more to the establishment than an intriguing name.
With an open waiting area, the restaurant was relatively empty as my guests and I had arrived only an hour after their opening on a Sunday. We were quickly helped to our seats among scattered tables, adjacent to a wall impressively covered in large screens showcasing multiple sports channels. Next to the open dining area was a sleek looking bar, following the restaurant's theme of simple, dark furnishings.
Among us we shared a pizza bianchi ($12), a cobb salad ($11.50), and a side of fries which I believe was around $3. While we waited for our food, one of our servers shakily handed us our drinks; I don't blame him, though, and I can't help but feel bad for the sweet guy who managed to balance a plate full of glasses on his arm. Another server also helped us and informed us of their special deals on gaming for the day, and after a short 10 minute wait we had our orders.
The first thing I noticed was the cone-like structure that our fries had come in. I'm not a fan of these structures in general, as they seem to have little practical purpose–but this was a taller version of the standard cone and seemingly dedicated to hindering our ability to eat with ease. The fries themselves were crunchy, warm and salty and I have no complaints on their taste. However, after a short while we were forced to crane our arms in awkward positions into the conelike structure to dig around for fries. Attempting to pour them out onto our plates would have no doubt compromised the thin paper structure holding the potato-ey goodness.
The next thing that caught my attention was the size of our salad. Acknowledging the fact that the meal was meant for one person, I was expecting a serving at least twice the size than the one we received for the price. Disregarding this thought we dug in, each taking a small share of the eye pleasing salad. It was surprisingly savory, and the mix of onions and avocado worked together in a flavorful way. My second qualm with the salad came, however, when I tasted the bland and slightly soggy chicken which slightly put off my appetite.
I personally enjoyed the pizza bianchi the best. Biting into the three cheese blend was lovely and I gladly went back for another piping slice. Looking through the GameWorks menu, one will realize that their dishes are not necessarily the most complicated; This is demonstrated with the simple but tasty pizza bianchi, though I can't argue that simplicity is always the best. While delicious, I was not blown away by our cheesy choice.
After we had eaten our fill, we made our way to the opposite side of GameWorks to explore the arcade, bowling area, and eSports center. Stealing the show is the sprawling arcade, filled with a variety of classic and newer type games; I saw a group of teens enjoying a basketball arcade game, and two friends frantically stepping on colored screens in a dance battle. While there were many choices to choose from, it also appeared that a machine or two were out of order.
The eSports center was a low-lit room filled with computers, strangely quieter than the rest of the establishment as each player in the room uses headphones. The blue tint of the technology filled room added to the modern gaming atmosphere. Stepping out of this area, we made our way to the bowling room which was accented with blacklights and neon colors. The cost for one game and shoe rental totaled to $9 per person. We ended up only going bowling, and enjoyed competing against each other in the comfortable couch-like seating, ending our visit to GameWorks on a happy note.
On the whole, as a restaurant I found that GameWorks fell short of my expectations. The prices are slightly inflated for the simplicity and plainness of their dishes, the average lunch meal amounting to $12.75. The redeeming factors of our otherwise mediocre restaurant visit was the novelty of eating in front of the large screens, exploring the arcade and eSports center, and of course, the fun bowling experience. At the end of the day, I would recommend GameWorks not for the passing food but for the enjoyable entertainment aspects.