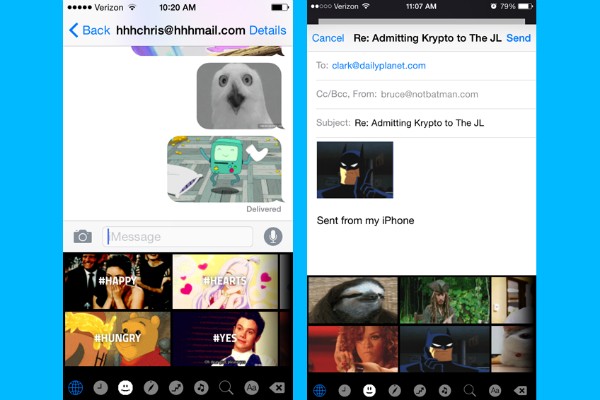 Scoring straight A's on your report card or meeting your favorite singer often sends the urge to shoot a celebratory text to your peers, but there are moments when emojis just won't fit the bill. Riffsy, Inc. aims for technological innovation with GIF Keyboard, an app that allows you to insert GIFs (Graphic Interchange Format) into your daily conversations. Whether it is Kristen Bell having a sloth-induced meltdown or Despicable Me's minions cheering in excitement, GIF Keyboard (almost) has it all.
In order to actually use the assortment of GIFs, you are required to enable full access for the app, allowing the manufacturer to take a peek at the information you type in. This security issue was almost a deal breaker for me, but I realized that information can only be obtained by the company if it is entered in with their built-in keyboard. This was slightly disappointing, since that handy add-on almost cut the need for switching back and forth between keyboards.
The GIFs are sorted by emotions, allowing you to select from "#tears," "#lol" and "#feels," which are only a few of the categories at your disposal. If you can't find your desired expression on the shelves of what the app has to offer, the search option unfolds the millions of GIFs in their library. However, your options only continue from there. Much to my satisfaction, GIF Keyboard's partner app, Riffsy, gives you the means to make your own animations with YouTube clips and saved videos.
Unfortunately, the app falls flat with compatibility. Since it can only be used with the iPhone messaging app, it leaves all the third-party texting applications in the dust. Personally, this is not an issue for me, since I tend to stick to the handy and convenient iMessage, but the app turns its back on those who resort to WhatsApp or Kik.
GIF Keyboard integrates seamlessly into the iPhone messages app, but it fails in the functionality department. It promises the ability to save GIFs that you encounter on your daily Internet or Tumblr stints, but when I attempted to do so, the app was unable to do as it suggests.
Security and functionality issues aside, GIF Keyboard greatly enhances the texting experience, bypassing the typical photo, video or emoticon. The app runs for free in the Apple App Store, but it is unavailable for Android users.