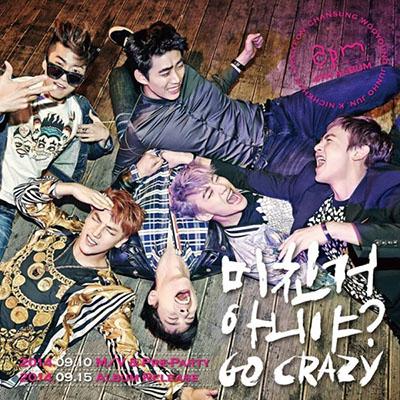 Known for their R&B sound since their debut, 2PM decided to take a huge step out of their comfort zone and turn the tables by venturing into EDM, or electronic dance music. With a fast tempo and pounding bassline being the distinctive feature of EDM, Go Crazy! is a failure. 
2PM is a South Korean boy group that debuted in 2008 under JYP Entertainment. Along with their counterpart, 2AM, the group gained early interest from fans after the company announced they would come together to produce the song "One Day." Earning the number one spot on Gaon's weekly chart, 2PM's Hands Up is shaped around their familiar "ready to party" sound.
I didn't know what to expect from the title track "Go Crazy!" but once the melody kicked in, the addition of a walking bass line, dramatic synth-strings, peppy guitar strumming and disco theme set high expectations for the whole album. I must admit though the sudden auto-tune on the vocals ruined a part of the song by disrupting the melody, but it still cannot be denied how impressive it is as it can easily lift a person's spirits. The constant repetition of the words "go crazy" in the chorus and the mixed melody created a sound a person can easily start to tap their feet to.
I would consider a piano-based track to be pleasant in this type of album as it provides the listener with a different perspective of the group. To start a track like "Girlfriend" though with a sax solo and incomprehensible, awkward whispers of "Acting like a man/Acting like a boyfriend/I can take whatever I want in my hands" ruins the song's potential.
It may not have been intended, but the whole album is a copy-and-paste of the first song. The difference would be the change in tempo and the component that would label it EDM. The addition of a staccato hi-hat rhythm and reverberated vocals through the use of autotune are the features that remained apparent no matter what song the listener is on. Though both need to be evident in a song for it to fit the genre and sound pleasant, 2PM only packed it in at the beginning of their songs and by the end of the first minute, returned to their usual R&B sound producing a song that the listener would not want to continue with after such a horrid start, regardless if the song redeemed itself by the end.
In comparison to their previous album titled Grown, Go Crazy! is an experiment to incorporate EDM. However, I hope that 2PM will exclude this genre from their list to try and return to their original sound.