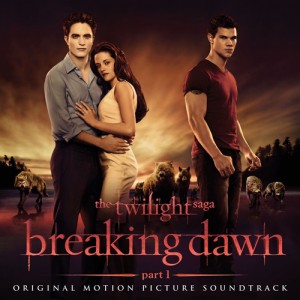 The Twilight Saga's newest soundtrack for "Breaking Dawn: Part One" features popular artists, such as Bruno Mars and Christina Perri, as well as up and coming artists such as Cider Sky, The Joy Formidable, and Mia Maestro.
"Endtapes," by The Joy Formidable, starts the album with an upbeat sound and soft edges courtesy of strong unique female lead, Ritzy Bryan. "From Now On," by The Features, is a purely fun song, along with The Belle Brigade's "I Didn't Mean It," with it's energetic sound; the two are a perfect example of pairing up the film's scenes with music that compliments the mood.
Of course, the love songs on the album are nothing short of beautiful. "Llovera," by Mia Maestro, is lovely with it's simple, sweet melody. Carter Burwell, who has composed the score of previous Twilight films, makes his way onto the soundtrack with "Love Death Birth," which magnificently incorporates "Bella's Lullaby" from the first "Twilight" soundtrack. The album also brings back "Flightless Bird, American Mouth," but reinterpreted the "Wedding Version." It's nice to hear the classics in the epic first part finale of the Twilight Saga.
The "Breaking Dawn: Part One" soundtrack is simply beautiful. Even if you aren't a "Twihard," you will love the mixture of sounds on this unique album. The love songs are perfect for the dark romance carried throughout the books and film adaptations. Spending the money on this album, whether you're Team Jacob, Team Edward, or a "Twilight" fan at all, will definitely be worth the money.