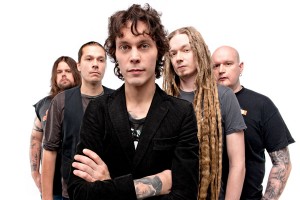 The album, "Screamworks: Love In Theory And Practice", by the Finnish rock band, HIM, gives an energetic feeling to the listener. The vocals are often pained and piercing, and the manner in which they were sung is heartfelt.
"Paint all your soul for me to sing heartkiller, diving and hear me humming out sparks will fly beneath the luna light, lazarus and frankensteins", from the song "Heartkiller", is just one of the many examples on the album where the band is able to make a human connection with their listening audience.
There is thought and intelligence to their lyrics, not just a mass of pain and sorrow compared to other rock bands such as Bring Me The Horizon, Brokencyde, and Static X.
HIM plays it safe, keeping the same style as all of their albums; however, there is a noticeable attempt to maintain a sincere tone. Clearly, they're trying to inject a sense of drama into each track of "Screamworks". The seventh studio album by HIM is another masterpiece.