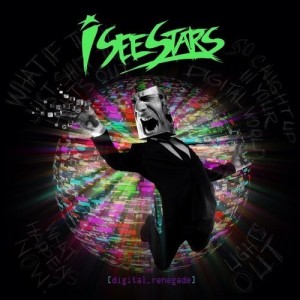 Unlike I See Stars' previous records, "Digital Renegade" is full of rave beats and electronic dance sounds along with more breakdowns and more head banging.
To get the fans pumped up for the new album, the band released their first single "Filth Friends Unite" which sets the tone of the album; talking about a "digital world" collaborating with electric rock music.
The album opens with "Gnars Attacks" which greets the fans with a chant and heavy screams along with great vocals from Devin Oliver and an awesome techno dance sound in the music.  Additionally, I See Stars' latest single "NZT48" is one of the best songs off the album, featuring the scowls and howls of their screamer Zach Johnson.
Although the band may have changed their sound from hardcore techno to an electronic dance genre, this album should help them increase their fan-base. They took a different direction with "Digital Renegade" by sharing similar styles from other bands, which also makes them stand out. This album has proven that I See Stars can be exciting, ambitious, and creative. The band has done a great job on this album and they continue to improve.
"Digital Renegade" also features Cassadee Pope from Hey Monday on "Electric Forest" and Danny Worsnop from Asking Alexandria on "Endless Sky".