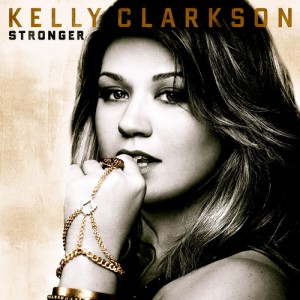 Kelly Clarkson
, also known as America's Sweetheart and season one winner of American Idol, has once again lived up to her reputation of creating powerful soulful music. Her album "Stronger" is appropriately filled with powerful, belting tracks, but most surprising was this album's low-key songs that the pop star rarely performs.
Clarkson is known for her powerful voice, so it is rather surprising that my favorite song on the album happens to be a softer one. In "Dark Side" Clarkson is describing her own darker habits with a hauntingly beautiful tune. "Nobody is picture perfect, but we're worth it," states Clarkson. It begins slow with little tinkling bells in the background that form the main haunting tune of the song; Clarkson then starts off in a low pitch until the chorus, making her appear truly scared of her lovers answer. Throughout the song, Clarkson proves her vulnerability towards men, more or less persuading her lover to stay with her.
Although her songs are all meaningful, Clarkson is beginning to bore me with her song choices. Every track seems to be focused on love, whether she is over it, with songs like "What Doesn't Kill You," "I Forgive You," and "The War is Over;" or whether she is ready for love, with "You Love Me," "Standing in Front of You," and "The Sun will Rise." Clarkson pours her heart into these song's, but on the other side they are very dark, and how can't they be with titles like "You Can't Win," "Alone," and "Breaking Your Own Heart."
Clarkson is far from a teenager and yet it seems as if she has the same obsession with boys as teenage girls do. She won't be able to pull that off for long, so she needs to start focusing on choosing more mature and age appropriate songs. She needs to explore other topics more fitting for her age, instead of continuing to only sing about her ludicrous love life.
Nevertheless, Clarkson is the type of singer that never fades in the background and her songs hold more feeling in them than many other popular artists. Her album "Stronger" only reinforces this idea, truly proving that "What doesn't kill you makes you stronger."