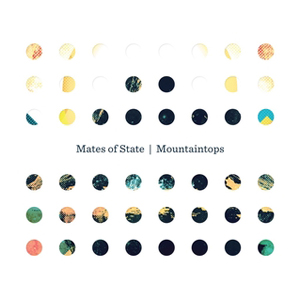 Mates of State's latest album Mountaintops can be described in two words: mind blowing. Mountaintops made me, a first time listener, fall in love with the indie-pop genre.
Kori Gardner and Josh Hammel started singing together in 1997, but in 2001 they got married and formed the band Mates of State. They have released six albums including 2000's My Solo Project and 2006's Bring It Back. Most of Mates of State's previous albums consisted of just the drums played by Hammel and the electric organ played by Gardner, but they have included more instruments in their new album.
The instrumentals are the strongest musical elements in Mountaintops.  I was expecting the usual guitar and drums, but in songs like "Total Serendipity" and "Maracas" they incorporated a few more instruments, such as tambourines and maracas. The added instruments gave the songs more spunk and showed originality. The fact that the melody was different than others made attracted me.
Although Mates of State are known for up-tempo electronic songs, they included a few songs with slower tempos for this album, such as "Unless I'm Led" and "Mistakes." Unfortunately, they don't fit in with Mountaintops because the beat was more structured. I found myself skipping through these songs because they ruined the flow of the album.
Since the band is comprised of a married couple, it's refreshing to hear real intimate emotion in lyrics. Unlike mainstream music today singing about mature themes and "partying hard", their songs had lyrics I could relate to and understand. "Mistakes" may not have an upbeat tempo, but it has my favorite lyrics because the couple harmonizes about making mistakes and still being with each other in the end.
For someone that's grown up listening to a completely different genre, I didn't care much for Mates of State at first. But, after listening to Mountaintops, I definitely have a new-found interest in exploring this genre further.