My Radio's "Starts i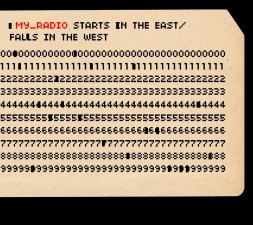 n the East, Falls in the West" has an Arcade Fire sound to it, which I enjoy. However, each song failed to grasp my attention or make me want to listen again; each song sounded like the previous one had been rehashed.
The first track on the album, "600 MPH" had a nice melody to it, but as the title of the album implies, the EP falls. The track "Take Me to Mars" accelerates in some places, but the rest of the song, unfortunately, goes back to its uninteresting ways. I must give props to "Bricks and Mortar," though. It was the only track on the album that actually excited me a bit while listening to it.
Overall, the music was solid and sounded fine, but failed to capture my interest.
[soundcloud url="http://api.soundcloud.com/tracks/62194173″ params="show_comments=false&auto_play=false&color=ff7700″ width="100%" height="81″ iframe="false" /]