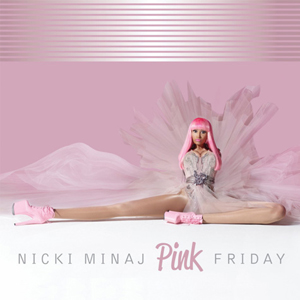 Nicki Minaj's debut album mixes her Barbie-doll cute and hard-core swag into a creation that's sure to have a broad appeal. Her debut album Pink Friday, expresses her personal style and experiences through her crisp and clear rhymes.
The more emotional songs such as "Right Thru Me", "Fly" (featuring Rihanna), and "Dear Old Nicki" are what dominate the album and keep it fresh. They speak on personal issues in Minaj's life that people are able to relate to. In "Dear Old Nicki" the lyrics speak of the person she was before all of the glitz and glamour. She explains the changes she made to her life in order to have her dream life, and how she truly misses the person she was before all the fame and fortune.
"Roman's Revenge" (featuring Eminem) and "Did It On' Em" show off more of Minaj's theatrical, yet hard-core character. In "Roman's Revenge" the female rapper spits insults along to a heavy club-tech track. Minaj declares her top at the throne of hip hop with this intense song, representing herself as the best of the best through lyrics of extreme language and an arrogant attitude. "Did It On' Em" continues with her excessive use of vulgar language, but at least the track excels musically.
This album has enough ear candy to assure that Minaj will stick around, but she's probably got more work to do to win over the doubtful hip-hop fans. Not all of the songs are hit list material, but the music stays true to who she is, and holds her spot as a new, well-loved female emcee.