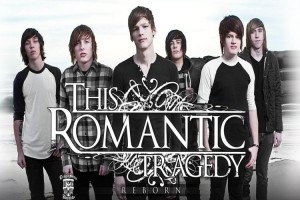 Losing two founding members in a band, including the front man, is a huge problem. But 'This Romantic Tragedy' is strong and managed to stay together through many struggles.
"It has been a roller coaster ride, but the band and I have pulled through it all", Mark Neuhardt said.
Halfway through "The Thriller Tour", their vocalist was having disagreements with the band and decided to call it quits and told the rest of the band to find a new front man. The band came home from the tour, regrouped, and decided to tryout replacements for the lead vocalist position and also added a few band members.
"The whole band has been getting along. We have a great connection together and a great connection has lead us to writing better music," Kyle Huender said.
After the newly official lineup was solidified of Sean Neumann, vocalist, Chad Dague, screamer, David Diaz, vocalist/guitarist, Kyle Huender, guitarist, Evan Ellis, bassist, and Mark Neuhardt, drummer, the band released demo after demo. And with the support from Tragic Hero Records, the record label that signed This Romantic Tragedy after their first single "The Worst Part Is Waking Up" in 2009, the band went back into the studio to release their new album 'Reborn' on May 10th of 2011.
Most recently, This Romantic Tragedy was included on the roster for the Main Stage at the 2012 Extreme Thing. Their fans showed up, crowding in front of the stage, and went crazy while putting on a smile on each of the band members' faces.
"Being on stage in front of local fans was one of the greatest feelings in world. It made me remember how far my band and I have come along in just a small amount of time," Diaz said.
Be sure to check out This Romantic Tragedy at their upcoming show in Las Vegas at The Sanctuary on May 11.
"Wish it. Dream it. Do it," Diaz said.