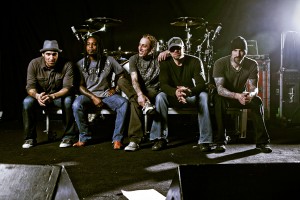 For years, Sevendust has traveled the world pleasing people with their music and talent. From their first self-titled album, to their most recent album, Cold Day Memory, Sevendust have grown in their music, but still have that same rock sound everyone loves. Obstacles in their path were no more than a challenge for these rock stars and have led them to be the band they are today: famous, yet down to earth. We spoke to Clint Lowery, guitarist, while he was out on the road promoting their newest release.
Q: To start off, could you please tell us who we're talking to?
A: My name is Clint Lowery.
Q: What inspired you guys to form a band?
A: I guess I grew up in a musical family. My whole family plays music so it was just the natural thing for me to play music and there's always instruments around my house so I was in love with music at a very early age. As far as us becoming a band, we all met in Atlanta, Georgia and all played in different bands and we decided to form our band that we're in now, Sevendust.
Q: How did you feel when you first heard "Black" on the radio in 1997?
A: It was great. I mean especially when you listen to your first song on the radio and it has a different sound. I mean it's hard to explain. It just feels like you really accomplished something, something big and it's like no other feeling, you know? Still when I hear a song on the radio, it still gives me the same kind of feeling.
Q: From 1997 to now, would you say that your music has changed?
A: Yeah, I mean we kind of changed and technology changes and our interest changed and I think it shows up in our music. We have the same kind of sound, but the songs are different and you know we just kind of evolved.
Q: Who was your inspiration for Cold Day Memory?
A: It's not a particular person. Each song has a different topic and a different direction. It's about just experiences and different people and life lessons that we have learned.
Q: Some of your songs such as "Splinter" and "Forever Dead" include the word God and other religious figures. How does religion play in your music? Would you consider yourself to be spiritual?
A: Yeah, I am personally. And no, I really can't speak for the rest of the band but I know that I am very much in the belief of God. There is a God and Jesus Christ and a higher gain. He created all of us and loves us all. But I definitely believe in God.  It's a definite motivator in my life and has helped me become who I am, and you know my particular conception of God is a part of my daily life. I couldn't really do anything without it, it's everything. It's giving me what I surrender myself to and kind of opened up a new way of life for myself and a new way of happiness.
Q: What advice would you give aspiring artists?
A: If you take it seriously and want to make a living out of it, just try to do something original. Try to be something different. Don't do what everyone else is doing. Make your own sound and your own voice.
Q: Are you excited about coming to Vegas on October 29th?
A: Sure. Yeah. I'm excited. I love Vegas.
Q: Do you have any great memories about past Vegas shows?
A: I just remember one time, one of the first times I played there, I jumped out in the crowd right off the bat. It was kind of like an introduction to Vegas and there are always good shows. I mean there's a lot to do there so it's never a boring time. We enjoy Las Vegas. I don't gamble personally, but there's a lot of other stuff to do there.
Sevendust will be performing live at the Fremont East Entertainment District this Friday. Doors open at 5:00 p.m. and tickets are $24.00. This is an all-ages show. More information can be found at www.rocktheblockvegas.com