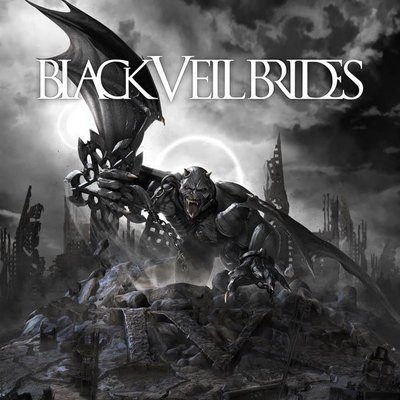 "Black Veil Brides IV" by American rock band Black Veil Brides lacks every aspect you may consider creative and colorful, considering that everything from the album itself, including its title, has absolutely no diversity or originality whatsoever.
With very mundane guitar riffs, the album calls for unnecessary rumbling and ruckus. At first, the instrumentals are enthralling, maybe even exhilarating, but after realizing that those same "enthralling" instrumentals remain that way for the entire album, I had the sudden urge to turn my music player off.
Black Veil Brides, consisting of Andy Beirsack on vocals, Ashely Purdy on bass, Jake Pitts on lead guitar, Jinxx on rhythm guitar, and Christian "CC" Coma on drums, formed in Ohio in 2006. Inspired by rocks bands Kiss and  Mötley Crüe, the band is notorious for their usage of black makeup, studded clothing, and body paint. Since their formation, the band has been with record label Lava.
[vision_pullquote style="1″ align=""] To my dismay, "Black Veil Brides IV" has as much character and life as a gravestone that's been disintegrating for years. [/vision_pullquote]
The album defines and introduces itself in the track "Heart of Fire," leaving a fiery roar in its wake that extinguished itself too quickly. Lacking artistic integrity, the track simply sounded like any mainstream rock song that had repetitive guitar riffs that prolonged itself for what seemed like forever. With lyrics such as "Not living for this anymore/You want a fight…I'll bring a war!" are incredibly fitting with its bland instrumentals, as it elaborates over feelings of redemption and depthless confidence.
As the album progressed, I couldn't distinguish the end of a song and the start of another; the entire album might as well be one 43-minute track of mundanity.
One track that protruded itself from the others was "Goodbye Agony," and that was only because it had a slower tempo than the rest. Like the rest of the compilation, the track revolves around a theme of salvation, as it covers the story of one letting go of all his past pain and misery. With lyrics like "I'm letting go of what I once believed/So goodbye agony," the track is rather pitiful and bittersweet. Considering its depth and soft instrumentals, the song became, possibly the only one out of eleven, that did not encourage me to emanate feelings of negativity.
As a mixture of 
Kiss
,
Mötley Crüe
and
Falling in Reverse
, Black Veil Brides clumps itself with many of the other rock bands from this era and does not stand out. Track after track, the album became gradually less interesting, my boredom exceeding the actual anticipation of the selection itself. As a fan of rock, I was merely disappointed with what became one of the many simplistic and monotone rock albums of today. To my dismay, "Black Veil Brides IV" has as much character and life as a gravestone that's been disintegrating for years.
Brash and brittle, Black Veil Brides fails miserably to be creative or be original, spanning from their music, to the title of the album itself. While the band is viewed as one of the last standing rock bands of today, their fourth album is something to be avoided at all costs.