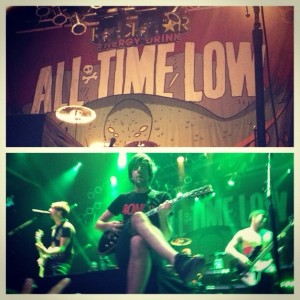 After leaving Interscope Records, All Time Low are enjoying their first U.S. tour back with Hopeless Records. After having attended seven different All Time Low shows in the past, they still do not fail from keeping me singing along to their amazing upbeat rock songs at the House of Blues in Mandalay Bay in Las Vegas, Nevada on November 3.
All Time Low opened up the show with "The Reckless and the Brave," their current single off of their new album, "Don't Panic." The song showcased lead singer Alex Gaskarth's strong vocals and relatable lyrics.
They kept the momentum going by further pumping up the crowd with favorite, "Shameless," off of their first album, "Put Up Or Shut Up." The screams of the crowd only increased as the music continued.
The selection of the setlist created a wild and free spirited crowd for the rest of show. With high energy in the building, both the band and the crowd seemed to have a blast throughout the night.
Show openers The Summer Set, The Downtown Fiction, and Hit The Lights did a great job building up the momentum for All Time Low.