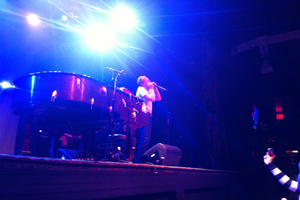 I've always been a big fan of Jack's Mannequin but after seeing them perform live my love for them was certainly intensified. The band has a undefinable charisma that makes watching them perform and hearing them play live that made me love the band that much more.
As soon as Andrew McMahon (the face of the band and the lead vocalist), Bobby "Raw" Anderson (guitar and backup vocals), Jay McMillan (drums), and Mikey "The Kid" Wagner (bass player) walked onto the stage, the hundreds of females, from teens to adults, lining the front squealed like children; the energy in the room was truly incredible. After introducing their new album and thanking the bands who opened the show, he began with one of his newest songs, "My Racing Thoughts," and immediately got the crowd roaring.
Supporting their current release, People and Things, Jack's Mannequin made sure to play a perfect mixture of their newest songs and their timeless classics from their older albums. Even if JM's new album was hot off the press, his fans found a way to learn every word to every song and sing at the top of their lungs.
McMahon, famous for his piano expertise, was even more amazing live. "I'm Ready" exemplified his wonderful piano skills. Multiple times, he was so involved with the song that he knocked his chair out from under him.
During the song, "Restless Dream", JM brought out one of the bands that opened the concert, Lady Danville (who is just about, if not, better than JM). Their presence made the song even better by adding a new layer of perfect harmonies to an already beautiful song.
Finally, towards the end of the set, one of Andrew McMahon piano solo slowly picked up it's volume and then the entire crowd realized the upbeat melody of JM's most popular song and my all-time favorite song, "Dark Blue." Seeing McMahon so passionate about the song, interacting with the audience, and hearing the crowd sing along to every word was amazing.
The only downfall to the entire concert was the piano placement. It was at the front of the stage turned sideways. So, the only people who could really see him were those to the far right and in the very back. Therefore, those on the left got to stare at the man's legs for two hours so, we had to stand on the tip of our toes to see the very top of Andrew's blond head.
One of the most noticeable aspects of the entire concert was McMahon's undeniable charisma lighting up the stage; when he smiled you couldn't help but grin from ear to ear.
Lady Danville, Play for Keeps, and Scars on 45 did a wonderful job when opening for Jack's Mannequin.
Jack's Mannequin Setlist:
My Racing Thoughts
Release Me
Holiday From Real
The Mixed Tape
Amy, I
I'm Ready
Hostage
Platform Fire
Crashin
Television
Swim
Bloodshot
Hey Hey Hey
The Resolution
Bruised
Encore:
Restless Dream (with Lady Danville)
Hammers And Strings (A Lullaby)
Dark Blue
La La Lie