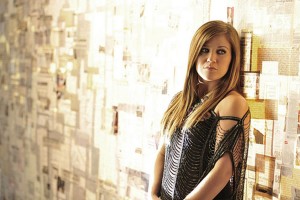 Concerts nowadays range on a scale from terrible to awesome. This is not a review of a terrible concert, but a heart-throbbing, intense, and exciting performance at the Pearl Concert Theater courtesy of Kelly Clarkson.
The first half of Clarkson's show included covers and lesser known tracks such as, "My Life Would Suck Without You," and "Never Again." Clarkson also incorporated audience participation that involved a clapping pattern that everyone attempted to follow and learn as she sang "Mr. Know It All."
During the second half of the show, the clapping ended and turned into a loud sing-along in the auditorium as she belted out fan favorites "Behind These Hazel Eyes," "Because of You" and her most recent hit, "What Doesn't Kill You (Stronger)." By the time the concert came to an end, the energy from the crowd was buzzing in the atmosphere.
Her music revealed all traces of an amazing artist. Her tone was clear and vibrant, her expression was sensitive and impassioned, and her technique was nothing short of perfect. Overall, the concert was masterfully arranged with the right amounts of musical and stylistic contrast between songs. Clarkson infused the evening with stories from her childhood in Texas, emphasizing the inspiration for her new album–Stronger.
For her opening act, Matt Nathanson took the stage. Much like Clarkson, Nathanson's voice never faltered. His humor was also contagious to the entire audience. Nathanson introduced his more romantic songs as being about "the adults playing Scrabble…all night long." He performed "Run", "Faster", and "Room at the End of the World," from his newest album, Modern Love, as well as some older songs including "Wedding Dress" and fan favorite, "Come on Get Higher."
Setlist
"Dark Side"
"Behind These Hazel Eyes"
"Since U Been Gone"
"You Love Me"
"Heavy in Your Arms"
"Hopelessly Devoted to You"
"Einstein"
"Walk Away"
"I Know You Won't"
"Let Me Down"
"I Forgive You"
"Already Gone"
"Breakaway"
"Mr. Know It All"
"Miss Independent"
Encore
"Never Again"
"Because of You"
"What Doesn't Kill You (Stronger)"
"My Life Would Suck Without You"