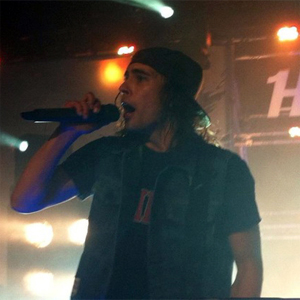 On Nov. 23, Pierce the Veil ended their Collide with the Sky tour with a bang at the Hard Rock Cafe on the Las Vegas Strip.
Pierce the Veil, made a grand entrance using confetti cannons; beginning with the song "May These Noises Startle You In Your Sleep Tonight" from their newest album, Collide with the Sky. They kept everyone jumping, performing "Bulls in the Bronx" "Besitos" and "Southern Constellations." One of their softer songs, "Hold On Till May," was dedicated to the band, Suicide Silence's, frontman Mitch Lucker, who recently perished in a motorcycle accident. After playing their final song, the crowd chanted for an encore, so the band came back out to end the night with the single, "King For a Day."
Pierce the Veil did an amazing job at pumping up the adrenaline level in the room. The ambience was exhilarating, and I felt that the music and band really connected with their audience.
Tonight Alive, a band originating from Australia, did a fantastic job building up excitement. Although the crowd's reactions seemed displeased with their music, the Australian band tried their hardest to make the show entertaining with their upbeat sound and humorous personalities. Metalcore band Chiodos replaced original opener, Sleeping with Sirens.