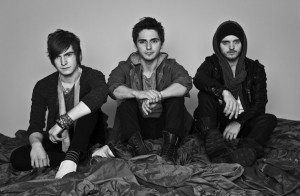 I've never really been a big fan of "The Cab", but after seeing this band play live, a new love for the band has ignited in my heart. I now understand why the throngs of fans were doing everything they could do to get closer to the band during their performance last Friday at the Hard Rock Cafe.
The two original band members, lead singer Alexander DeLeon and bass player Cash Colligan attended Liberty High School, in Las Vegas, Nevada. They officially became a band in 2005 after they added guitarist Paul Garcia, guitar/pianist Alex Marshall, and drummer Alex Johnson. Their first gig was at The Alley is Las Vegas. The band now consists of Alexander Deleon as lead vocalist, Alex Marshall on piano, guitar and back-up vocals, and Joey Thunder on the bass.
From the start of the show, they wasted no time and launched right into "La La" from their new album Symphony Soldier, causing screams of delight from the audience. By the time they began the opening chords to "Angel With a Shotgun," the whole crowd was jumping to the beat of the music; the energy was definitely at its highest point of the night.
After singing "Living Louder," the lead singer Alexander DeLeon made it clear how much he loved the Las Vegas fans. Personally, this furthered my new love for them. Unlike other musicians that might dismiss their hometown after they get "big," it was nice to know these musicians still care about where they come from and the people who helped them achieve success.
Towards the end of the concert, after having performed a mixture of the songs from their new album, the band played my personal favorite, "Take My Hand," from their first album Whisper War. This particular song, is one of the best live songs I have ever heard. And DeLeon's voice blended perfectly with the instruments.
In between songs, DeLeon made a comment about wanting to meet every single one of the fans there that night. After finally clearing out of the Hard Rock Café, we walked out to find all of the band members taking pictures, and having conversations with the fans in the cold and windy weather. That said, it just comes to show how loyal these guys really are to their fans.
All opening bands made the whole crowd dance and new music was brought to my attention. Paradise Fears, Days Difference, He Is We, and Summer Set all did a fabulous job at getting the crowd pumped up and ready for The Cab.