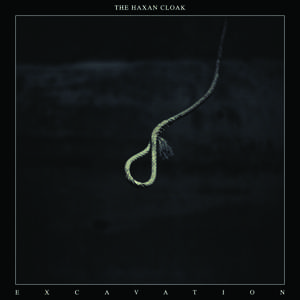 Better situated for a horror movie in a dark theater, 'Excavation' by The Haxan Cloak is not what I would expect to be coming out of my earphones. None the less, the eerie music is oddly exciting and entertaining, and the varying melodies are full of suspense.
The first track, "Consumed" is slower than the rest of the EP. The heavy beats seem to last longer than is normal for an HC song and the introduction seems to be pulled straight from a Stephen King horror flick. Nevertheless, the techno beats mixed in throughout the song add even more intensity to the heavy beat, creating a worthwhile song. "Diue" is interesting because it is the only song that contains a string quartet in the background. The elegance of the strings is accented perfectly by the faux static which in turn creates a appealing rhythm.
Overall, this album is nothing like I expected. Initially, I believed it to be an odd doppelganger of a horror movie melody, but it is much more intense and oddly entertaining than that. If you are in the mood for anything new and oddly soulful, Excavation is the album to play.
The Haxan Cloak – The Mirror Reflecting (Part 2) by TriAngleRecords