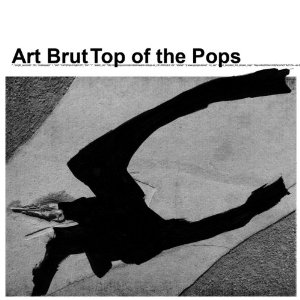 The British singer Art Bruts' recently released album, "Top of the Pops" is slighty annoying with the simple lyrics and completely predictable nature. While Brut's appealing accent is prominent more often than not, the cute British voice is also taking up space with useless and confusing lyrics.
The first track on the EP, "I Formed a Band" is possibly the most predictable song I have ever heard, due to its title. Throughout the song it seems as though Brut is saying nothing more than those four words. At first amusing, the song turned out to be nothing more than an eventual headache. Song number two, "My Little Brother" is a little more tolerable. Brut explains 'his little brothers' sudden discovery of Rock music and how he is embracing it. While most of these songs' lyrics are slightly stupid and mundane, the alternative rock music that Brut sings to is surprisingly good. It almost makes up for the lack in creativity when considering to the lyrics.
"Top of the Pops" is a lyrically lacking album that has unexpectedly good alternative music. While the music makes up for some of the braincell-killing-lyrics, some of the tracks go way off the edge of acceptably trashy songs. If you're looking for something loud, slightly annoying, and completely rebellious, this album is perfect for you.