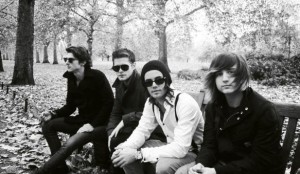 From an unknown Nashville band to an award winning pop rock band, Hot Chelle Rae, comprised of Ryan Follese (lead vocalist), Nash Overstreet (lead guitar), Ian Keaggy (bass guitar), and Jamie Follese (drums), never fail to please their teenage audience. Once named Miracle Drug, the band signed with Jive Records in 2008 and most recently moved to RCA Records. Their albums "Lovesick Electric" and "Tonight Tonight" gained them widespread respect and millions of views on YouTube with their use of hip, creative beats and simple lyrics. Although their fame continues to grow, they maintain their unique and rational personalities. We caught up with Hot Chelle Rae after their performance at SWCTA.
Southwest Shadow: We first would like to congratulate you on your AMA award for Best New Artist of the Year. How did you guys feel winning the award?
RF: It's just like a plethora of emotions. It was just excitement; it was just, I don't know—it's really hard to explain.
NO: When you perform on stage every night, you get such a rush from seeing crowds singing to all your songs while you're performing, but nothing touches going up there and getting an award that you didn't know you were going to get or not, in front of millions of people watching on TV.
RF: It's an accomplishment, it's excitement, it's nervousness, it's all of that in one thing, and it's just very tough to contain.
Southwest Shadow: Of all the names, how and why did you choose Hot Chelle Rae?
RF: Um, we chose Hot Chelle Rae because Chelle Rae was a dedicated fan, and she was our first, main kind of crazy fan on Myspace. She was stealing her entire identity and her photos from somebody else and we thought she was very attractive in her photos. Once we found out she wasn't real, we decided to name the band after her.
Southwest Shadow: So, did you guys have music on Myspace?
RF: Oh yeah.
NO: We had so much music early on; we had like four or five different Myspaces because we tried to change band names. Within like a month, we were going through different names and so we had to figure out all those accounts and delete them at some point.
RF: We would just sit there and add people relentlessly.
Southwest Shadow: Would you guys say your song "Tonight, Tonight" describes you as a pop band, where you have fun and party?
RF: "Tonight Tonight" is just a tip of the iceberg for us. It's really, if you like it, you're going to like everything else. There are songs on our new album that's coming out on November 29th and it's called "Whatever." There are serious songs, there are fun songs, and it's kind of everywhere we've been in the last year. All of the emotions are heightened being on the road and being with your families and stuff like that, so it's enabled us to pull out feelings and songs that we never thought possible and we're really really proud of this work.
Southwest Shadow: What is your guys' favorite song on "Whatever?"
RF: I think it changes, honestly, by day because you know, every time someone else tells me something they like about it, it opens up a new way of looking at the song to me, but I think we have several different favorites. Right now, I think I have a couple favorites. I'm really digging a track on our record called "Honestly" and then there's a song called "Radio" that's really really fun and unique. It's about missing somebody that you love, but it's also about communicating to them through the radio, and it's kind of what we get to do.
NO: The song "Beautiful Freaks," we were actually playing it earlier—it's amazing to see people singing and moving to it because it's very much self-empowering, kind of like for the bullying thing, so everybody can just believe in themselves and be encouraged by that song.
IK: We played the song "Honestly" today and I agree with Ryan as well. It's one of the songs that when the chorus hits, it gets me every time and everyone seems to love it and we've been getting a lot of good feedback, so I'm really digging that song right now.
Southwest Shadow: You guys are going on tour across the U.S. and you guys are also going to Australia. How does it feel basically going from a Myspace band in Nashville to traveling across the U.S.?
RK: It's crazy; it's really hard to describe winning an award last night and having that just sink in. I finally feel like we've arrived as a band and we've definitely come a long way from touring in our van and our trailer and doing the whole thing with—I mean, we're going on tour with Taylor Swift next year. That's like mind blowing, and it definitely lets you know that you're really in it with the rest of them; you're on a peer level with people like Taylor Swift and Katy Perry.
NO: You always shoot for the stars and high hopes and big aspirations, but you also never know if you're going to get there. You just know that you're going to keep trying until something happens. So for us to reach that, it's just amazing.
Southwest Shadow: Lastly, what is your stance on bullying?
NO: NO, don't.
RK: Absolutely, 100 percent against it. I mean, like I said earlier, we've all got bullied in our own ways in school and some worse than others, but mostly, I've witnessed a lot of bullying in school and it can ruin a kid's high school, you know, lifestyle. It can ruin not just your day or your week or anything like that; it can scar you and it's something that you should never stand by and if you see it happening, you should never just let it happen. You should never watch, and you should try to find a tightened group of friends and even if it's small, really stay small and mighty, but like if you could find people you love to stick around you and keep you uplifted, it's going to help to decrease the impact.
Featuring popular artists Demi Lovato, New Boyz, and Bei Maejor, their second album "Whatever" will be released digitally on Amazon, iTunes, and in stores on Nov. 29, 2011.