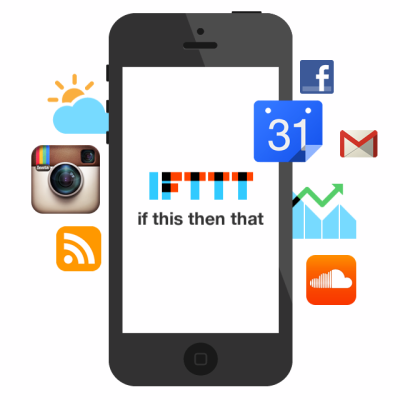 "IFTTT" is an expert tool that allows you to create and carry out commands on your phone or electronic device. The commands all follow a simple chain: 'If This, Then That.' An example of this command would be 'If at home, then turn on Wi-Fi.'
These command chains are called "Recipes." The 'this' part of the Recipe is what serves as the trigger, and the 'that' determines the action. Within "IFTTT" there are Channels for different apps with common triggers and actions. For example, Facebook has a Channel that has a trigger for 'Tagged in a photo' and the action 'Send -mail notification'. You can also create your own Recipes that suit your needs.
When I began to use the app I was extremely confused, and as a result, slightly discouraged from using it. However, as I continued to explore and look up Recipes I began to prioritize what commands were useful to me. I found that researching various triggers and actions helped me understand the app. This also introduced me to a number of other useful commands, such as 'If new contact added to phone, then save information into a Google Docs Spreadsheet.'
There are a number of different uses for "IFTTT"; to use the app to its full potential one should do a little research. If you think of a command, chances are IFTTT will let you do it. The possibilities with this app are truly endless; however, I sometimes found they were not always reliable. I created the command 'If leaving home, then turn phone on vibrate' and it to take a while for the app to register that I was no longer at home.
Aside from the unreliable location device, I also found that creating Recipes in general was difficult. While there was already a list of Channels given within the app, I had no idea where to start since the choices were so vast. I do recommend to anyone planning on downloading the app to go on the "IFTTT" website to look through the different commands available.
When it comes down to the basis of this app, those who know what they want from this tool will make their lives easier. Those who do not know specifically what they wish to do might be slightly in the dark, but still see its all-purpose uses.