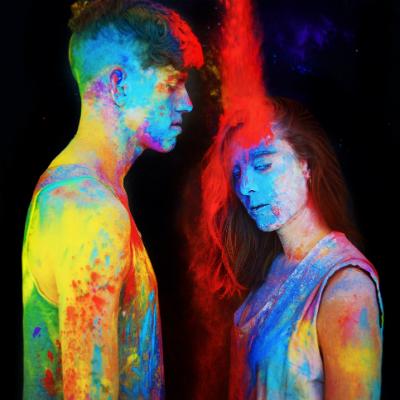 Layered vocals, ethereal harmonics and reverberating synth are common in a recipe for electro-pop, but Stranger Cat takes it up a notch by adding a steady downbeat and entrancing vocals to their debut record "In The Wilderness." The ten track album serves up an otherworldly experience that is dark, mesmerizing and mysterious.
Stranger Cat was initially the solo project of Cat Martino, a native with her roots dug deep in Brooklyn, New York. Although her solo identity was not definitive, she made several noteworthy appearances on the albums of Sufjan Stevens ("Age of Adz," "All Delighted People") and Sharon Van Etten ("Epic"). Eventually, her partner in crime Sven Britt joined her side and added a greater degree of instrumentals that escalated the artistic prime of Stranger Cat.
The duo specializes in an individualistic, urban sound that may as well be the love child of Marina and the Diamonds and Owl City. Their energy is somewhat subdued in songs such as "I Promise" and "I Lost It," but the duo still manages to show off the little tidbits that are specific to their identity: the outstretched echoes, clear cut percussion and rumbling bass—only to name a few. However, because most of the songs bear the same tone, it is difficult to differentiate each track from the others, which was the duo's only downfall.
[soundcloud url="https://api.soundcloud.com/tracks/169045825″ params="auto_play=false&hide_related=false&show_comments=false&show_user=true&show_reposts=false&visual=true" width="100%" height="450″ iframe="true" /]
Martino's wholesome, shadowy vocals are irresistible with the way they curl around the lyrics, which were crafted into short stories. In "Empty Little Word," she croons with sentiment: "I am sure I followed you in a dream/The lion always roars/The gold light poured like a stream/Only the whisper of the wood/Can break the hollow."
Stranger Cat makes magic with stereo audio, an element that forges a three-dimensional affect on two-dimensional platform. Martino's vocals slide in through the left ear while Britt's pounding bass stomps in through the right ear. In "Fig Tree," the layered vocals fluctuated from my left earphone to my right as the rumbling brass dominated both. This 360-degree, cinematic experience was utterly mesmerizing, and was my favorite part of the album.
With Martino's distinct, cascading vocals and Britt's electronic, energetic instrumentals, Stranger Cat plants a steady foot into the synthpop music scene. "In The Wilderness" is a masterpiece that may lack some diversity, but easily compensates for its weakness with a dream-like experience. Fans of electronica and indie will appreciate the duo's experimental tendencies and avant-garde style.