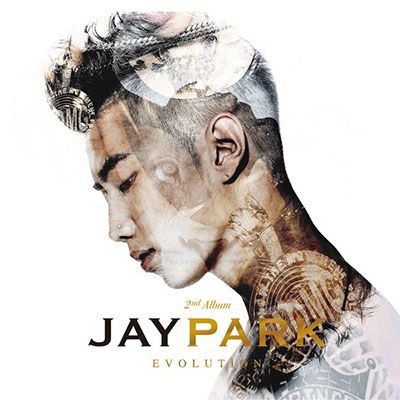 With hope to create a new perspective through his music, Korean rapper Jay Park explores themes of success, romance, and heartbreak with fluid dynamics by transitioning from an upbeat tempo to a slow piano.
The release of his first mini-album in 2011 titled Take A Deeper Look continued to build his fame as it went multi-platinum in South Korea and earned himself the title of the first artist crowned winner on a debut stage on Music Bank, a weekly show hosted by the Korean Broadcasting System. He was also the first solo artist to win "Record of the Year" at the 2011 Golden Disk Awards. At the start of 2012, he released his first full-length album titled New Breed and quickly topped charts internationally, earning multi-platinum in less than a week.
In comparison to Park's previous album New Breed, Evolution is a showcase of his personal growth. Instead of venturing out of his comfort zone, he chose to keep his usual spitfire flow and charismatic rapping present in each song, but still chose to exhibit how he has grown as an artist.
Being the first album that Park released in two years, he started with a piano-heavy track titled "Evolution." This track addressed his struggles and how he chose to overcome them. Lyrics such as "I chose this path that wasn't easy but dangerous/I didn't rest and kept going" and "This isn't a sad story/Like magic, this is a tada! story/I made something that wasn't there before appear/I made my family smile," show that instead of taking the more sympathetic approach to the subject, Park reminds people that he chose to take the risk to become an artist. His determination to work through it made him a person that he and his parents are proud of, making it all worthwhile.
Though showing progression through his lyrics and instrumentals, I believe Park is still in need of improvement, as the album was pleasant, yet he did not show that he improved too much in skills that he considered out of his comfort zone. I would consider an exceptional artist to be one that is well-rounded in every aspect, not just in what they find comfortable.
The featured track "So Good," composed by Cha Cha Malone, is considered as an improvement from Park's previous featured track "Let's Make Up," and is said to be a tribute to Michael Jackson with his attempt to imitate MJ's signature ability to ad-lib with a melody that is a reminiscent to the 80s single, "P.Y.T. (Pretty Young Thing)." The lyrics, "Oh it's this feeling, this is the feeling I wanted/You look so beautiful right now," show that Park wanted to incorporate the message of "P.Y.T." by desiring to be noticed and loved by a specific girl.
This may be an improvement from Park's previous album, but Evolution is mainly composed of remastered and previously released tracks that leave the listener with a select amount of new material. Therefore, I was not too impressed and could only give this album a B rating.