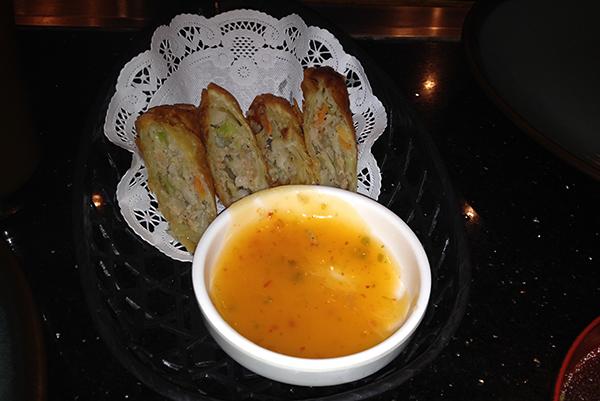 Don Vito's
6125 S Fort Apache Rd
Las Vegas, NV 89148
Hours of operation:
Dinner: Mon-Fri 11:30 am – 10:30 pm
Sat-Sun 4 pm – 10:30 pm
For special nights or birthday dinners, sometimes you want more out of your meal. Kanji Japanese Steak and Sushi is a fancy restaurant which has an environment that will engage all ages.
Kanji is located in a strip mall off of Patrick and Fort Apache. Kanji has indoor as well as outdoor seating options, including a separated bar exclusively for adults. There is a choice to eat at a hibachi grill and have food prepared in front of you or enjoy it after it has already been made in the kitchen.
As soon as your party is seated around the hibachi table, there are plates, a fork, chopsticks, and two menus. Their drink menu includes alcoholic as well as non-alcoholic and the sushi selection. Their dinner menu consists of appetizers, entrees, and sides. Every entree comes with soup, salad, shrimp, vegetables, and fried rice. The three course option includes a drink, appetizer, and an entree combination otherwise the entree, sides, and appetizers can be ordered separately.
Before the chef arrived, the soup, salad, appetizers, and drinks were brought to the table. The mango ice tea ($3.50) was delightfully sweet and fruity. I ordered an appetizer of egg rolls ($7.00) with a sweet and sour sauce, the perfect crunchy starter. The soup included mushrooms, onion rings, and green onions was a warm difference to the salad which had iceberg lettuce and a cold ginger dressing.
The chef then brought a cart of sauces and spices and turned on the grill. After he checked the orders, he began with a series of entertaining tricks. Once the fried rice was cooking, he distributed sauces for dipping. There are three choices, yum-yum for rice, spicy mustard for chicken and steak, and ginger sauce for vegetables and seafood. He gave everybody fried rice, then started the vegetables, which includes fried mushrooms, onions, zucchini, and bean sprouts. Following that, he grilled the seafood and meat.
I received shrimp that came with my meal, as well as the extra shrimp with my entree of the New York steak and shrimp combination ($24.95). There is also a dessert list, we ordered vanilla ice cream and it was the perfect end to a great meal.
Although this is a very expensive restaurant, it offers a one of a kind experience that cannot be paralleled.