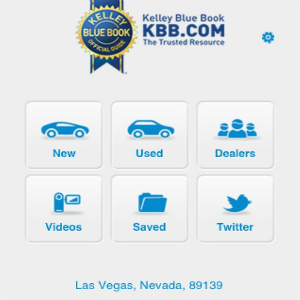 As more and more students are beginning to prepare and receive their permits and licenses, their interest in cars is skyrocketing. It is around this time that they begin searching for their first cars, and the questions can be endless.
The KBB (Kelly Blue Book) App is meant to help you with all of your car related problems.
This free app is a lifesaver, and incredibly easy to use. Once you open the app, it directs you to the homepage which shows icons for new and used cars, dealers, video's, Twitter, and saved inquires. This app is intended to give you information and pricing on any car ever created. The displays are easy to understand, and it is uncomplicated. By simply asking you the year and model of the car, it will give you information on the car and its suggested pricing depending on its condition. KBB is even used in car dealerships all over the US.
If you have any questions about any car, despite its model or year, the KBB app is highly recommended. Easy to use and understand, it is a fast way to make sure you're getting the best deal possible on your new or used car.
Pros:
*Easy to use
*Updates frequently
*Exact pricing at dealerships
Cons:
*Cant send specific questions
*No mechanics to talk to
*Don't suggest models