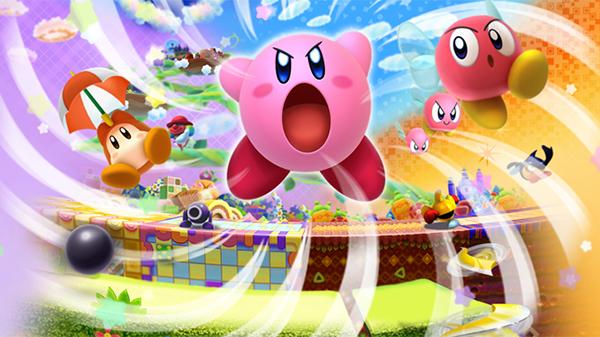 Alongside developer HAL Laboratory, Nintendo published the thirteenth installment in the classic platforming video game series with Kirby: Triple Deluxe. The storyline of this game has changed completely in comparison to the previous, Kirby: Return to Dream Land, as the player no longer has the aid of Meta Knight and King Dedede throughout the adventure, and King Dedede has taken his place as the main antagonist of the game once more and causes trouble for Kirby under the command of another.
As the name suggests, Kirby: Triple Deluxe contains three different game modes along with two minor ones. Story Mode is the classic side-scrolling experience that allows the player to take control of Kirby and use his ability to absorb enemies and take their abilities to gain unique powers that will then help solve puzzles, find collectibles and fight bosses. Being that it is a new installment to the series, there are several components that have been added on how the player can play the game. One is the new feature called Warp Star which allows the player to move between the foreground and the background of the area.
At the start of the game Kirby is found fast asleep in his home on Dream Land. Overnight, a beanstalk emerges, curls around the house, then lifts it into the sky facing the kingdom of Floralia. Kirby first ventures into the castle and finds King Dedede, the original antagonist, along with Taranza. Taranza, the accomplice of Queen Sectonia, dethrones King Dedede then forces the player battle King Dedede on two separate occasions, like in the original game, but also work to save him once a battle with Queen Sectonia ensues. The player must navigate their way through a number of worlds before this all may occur.
Gyroscope is a motion-sensitive feature built within the system that allows the player to hold it at an angle and trigger a reaction in game. With the added depth provided by the 3D graphics and slight character rework, I will also admit that the game is given more 'life' which may guide the player to continue playing, especially with the gyroscope feature. I must admit I am not much of a fan of the character rework and for a rather simple character like Kirby I do prefer 2D than the 3D interface, hence the reason why I would give this game an overall B- rating. It may be easily argued that the reason this game is entertaining is the effect that the 3D graphics add along with the extra component on the 3DS.
I may not enjoy the platform-based interface, but I would suggest Kirby: Triple Deluxe to be the start of a person's interest in that type of gameplay with the easy action-packed progression.