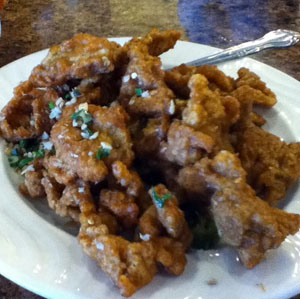 From seafood to B.B.Q., Hong Kong Garden has a wide range of dishes that can keep the whole family happy with the large menu. For its moderate sized dishes, the prices are actually reasonably set, however, the food was not as good as it could be.
To begin my dining experience, my family was given carrot soup which was on the house but was not appetizing, despite its nutritional ingredients. I then ordered the Salt and Pepper Pork Chop ($6.95) which was pretty tasty, however, it was not as crunchy as it could be and was extremely soft and tasted old. My family then ordered the Orange Peel Chicken ($6.95) and the sauce was savory, but the chicken was far too chewy to be enjoyable.
Another dish my family ordered was the Braised Bean Curd and Vegetable ($6.95) which unlike the other dishes, was actually prepared quite well. It had smooth tofu and a savory sauce that went great with the vegetables. Additionally, my family ordered the Beef Chow Fun ($5.95), which completely lacked in taste and the noodles were undercooked. Our meal ended with the sweet yam soup which was also provided on the house. Despite being a dessert, it lacked sweetness and tasted like water.
There was an assortment of dishes at Hong Kong Garden, but the low quality of those dishes will make people think twice before visiting. Despite many decorations such as neon light signs and plant arrangements, the crowded room impaired the dining experience. Additionally, the service was quite questionable with the slow responses and cold interactions.

View Larger Map
Operating Hours:
Mon. – Sun.: 10 a.m. – 6 a.m.