Sitting in a circle, the group looked over computer screens, scribbled down notes and yelled out ideas. With the Dance Commission group of Student Council in charge (and the rest of the class helping out when needed, of course) they were in the middle of planning a hectic and exciting endeavor.
"Usually [Dance Commission] is in charge of Sadies and homecoming, but since Sadies was scrapped we decided to take this on as a new creative event," Dance Commissioner Michael Spencer said.
Last year, after StuCo students retired the annual Sadies dance, a few of them noticed a trend; the dance always happened to fall on or around the same day as popular music festivals. Armed with an idea, these students proposed a music festival of our own: a Coyote Coachella.
"We have this week to prepare, but mostly so far we had only been thinking about it," StuCo member Lexi Delliponti said. "Everything is pretty much new, and we are taking a big leap of faith."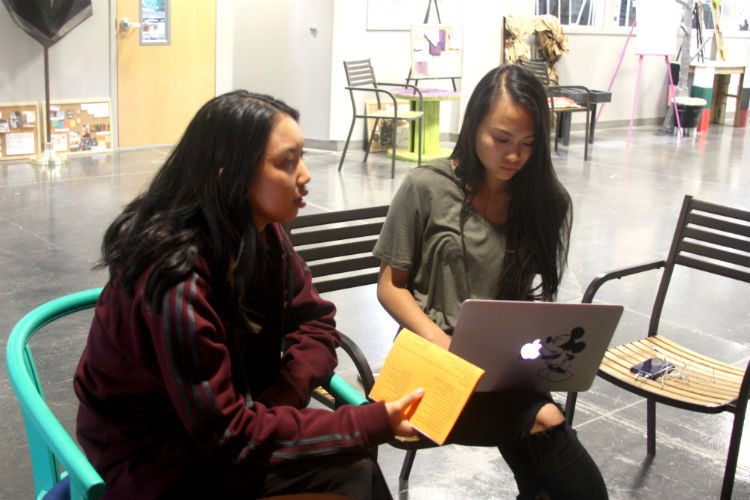 Auditions
On March 30, StuCo invited any and all musicians and dancers to perform in the ballroom. With over 29 groups packed into the ballroom, singers excitedly sang warm-ups to themselves, dancers attempted not to crash into each other and judges carefully took notes. 
"The second Mrs. Julian announced during the Coyote Olympics assembly that there was going to be a Coyote Coachella, I spent all of Spring Break finding a song to sing and practicing it as much as I could," performer Sara Rounaque said. "By the time auditions came around, I was more than excited to show the judges what I had prepared."
For nearly two and a half hours, judges were treated to Adele-soundalikes, contemporary dancers, classical instruments and an unending wave of energetic aura. And only two days later, students crossed their fingers as the concert's lineup was released during daily announcements.
"Auditioning for Coachella resembled the auditions of American Idol, just with more judges," performer Jayla Hart said. "Granted, it wasn't my first time auditioning in front of people, but I was still nervous—especially since I changed my song right before I auditioned. I'm super excited to sing for Coachella though, it's going to be awesome to show my peers what I can do."
Activity One: It's tie dye for
Decked out with assorted bottles of paint and white clothing, students gathered in the parking lot on Monday to create a classic part of any music festival look: tie dye shirts. An act that some haven't done since middle school, and some never, the event mixed the sound of laughter with paint splashes. 
"I think it's a really great way to create new types of clothing for Coyote Coachella, because everything about the event is lively and colorful," sophomore Brianna Ramos said. "I decided to go because I thought it would be a fun way to bond with my friends."

With blue tarps covering the hot blacktop and orange buckets of water spread across the lot, students were given a crash course in the art of tie dye. Between moments of chaos while organizing and planning, the simple task gave StuCo students a memorable, albeit messy, way to end their first day of concert week.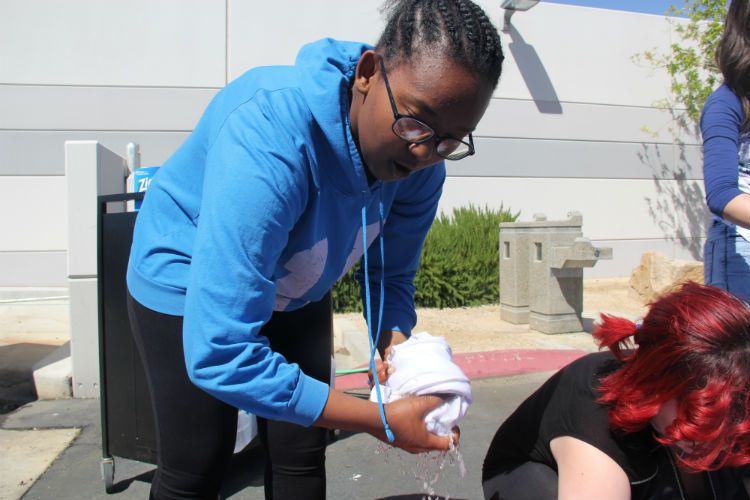 "We had Ziploc bags for them and gloves so students wouldn't get dye on their hands," Dance Commissioner Alexandra Nguyen said. "Then they just take it home, leave it for a night, wash it, and it's all set for Friday."
Afterwards, students' bags were heavy with newly colored clothes while StuCo members took a breath and patted each other on the back. With one event down, they only had four more days to prepare for the concert and still one more event to host.
Back at school the next day, members of Dance Commission began peering down the C building hallway for artwork to feature, and asking around for a certain jumbo sized beach ball or maybe an extra large Jenga set. 
"We're going to have all the artwork we got from Ogden's students out on the field, and anyone else's artwork from Southwest that we got," Dance Commissioner Maddie Drozd said. "Everything we have for students to do is over-sized, so we have over-sized inflatable bowling and that's going to be really fun—we also have a huge beach ball that is bigger than anything you can imagine."
Simulating everyone's favorite art-show feature from Life is Beautiful, various games and pieces of artwork will be spread along the grass during the concert.
"I'm most excited about all the art we are going to have and to see all the different things kids have been working on throughout the year," Spencer said. "We are looking at the leftover pieces from concentration portfolios because there isn't a theme for the concert, it's just about artistic expression."
Activity Two: Flower crowns and friends
With the main part of their outfits done, it was time for students to accessorize; as with all good music festivals, flower crowns are almost a necessity. Merely an hour before the plastic petal filled event, StuCo students quickly plucked flowers from stems and tossed them into color coordinated bins–here and there, a stray daisy found its way into a group of roses. 
"For the flower crown making we actually bought individual flowers," Nguyen said. "And we bought bands so people could have them around their head—as well as floral tape, hot glue, and glitter so you can make it your own."
Meanwhile, just outside in the hallway, StuCo members rushed around, balancing bowls of paint on their knees and offering each other drawing tips. Among other surprises are an Instagram-esque photo backdrop and a poster for students to write life goals.
"We made a sign that people can write on about what they want to do before they die," Drozd said. "They can also put their hand print on it, so it's kind of a memory keeper for everyone at Coachella."
On Wednesday, bins full of flowers, floral tape, and hot glue guns were hauled into the cafeteria for making the headgear. As StuCo lead the way and measured out wire for each student's perfect crown size, others were rubbing elbows at tables sticky with green adhesive.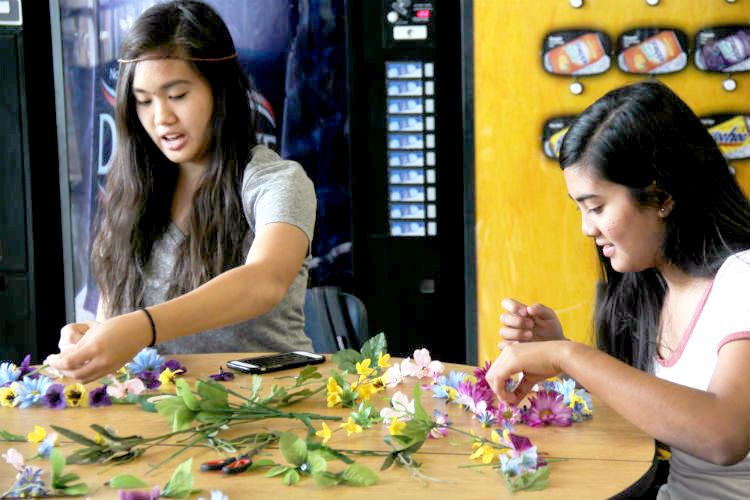 "When Coyote Coachella came around, my friends and I decided to go do it together," junior Regina Gojar said. "It was a great week overall, and it was really cool that we could create our own clothing pieces. While making my crown, I remembered the colors of the shirt I tie dyed (white, blue, and purple) and I incorporated those colors with flowers that I thought were pretty."
Students slowly left the cafeteria donned in floral bands, and the Dance Commission group packed up supplies. After school the next day, the finalized concert lineup met in the gym to do a final run through of their acts.
"Seeing everyone at rehearsal today run through their acts and being given the overall rundown of how tomorrow is going to go was super exciting," Rounaque said. "There are so many wonderful acts who show just how much they love what they do through their performance, and I think everyone that attends is in for something really special."
There is now one day left until Coyote Coachella.
Concert Day: Don't rain on my parade
It's the day that they've been waiting for; today is the day for StuCo to see Coyote Coachella come to life, all for these students who kept smiles on their faces with tired eyes, stretched their backs after hours of leaning over drying posters and most importantly made the whole idea of a student-run music festival possible. 
"It feels fantastic; everyone has put in a lot of hours to prepare for this event," Dance Commissioner Zoe Kriethe said. "I've been pretty excited about Coyote Coachella ever since the idea was released. With the attendance we have had over the week, I'm looking forward to seeing how everyone enjoys it."
The weather, on the other hand, had different plans. With high chances for storms and rain, StuCo made the difficult decision of rescheduling the concert in order to ensure the safety of students and to make sure the experience would be as enjoyable as possible.
"It's an outdoor music event so you really need the weather to be nice," StuCo adviser Miriya Julian said. "Also, we were going to have Kona Ice there and I don't think they would have had a lot of business since it was cold–we didn't want the weather to affect any of the vendors."
Still determined and not deterred from this bump in plans, StuCo plans to have mostly the same vendors and even more activities, and now they have a memorable story to tell of the (almost) premiere of Coyote Coachella.
"Hopefully we'll sell even more tickets, and then we'll have more games and more activities," Nguyen said. "It's still going to be an amazing event, just a little bit later in the year."