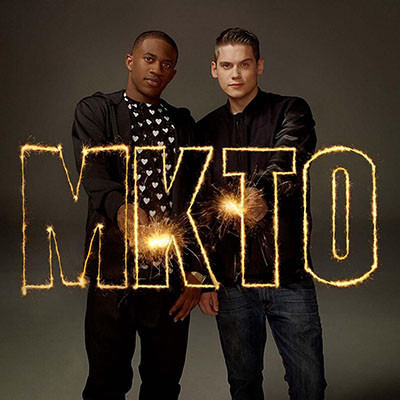 MKTO (Misfit Kids and Total Outcasts) is one of the most unconventional bands of this generation, mostly due to their rebellious music. They go against the mainstream heart-break and love songs, instead talking about the issues today's generation is facing. Their songs are refreshing, and the sweet voice of previous Disney star Tony Oller is complemented perfectly by the powerful boom of Malcolm David Kelley.
Forget the girl next door; poverty, war, and the government are the topics in "Thank You," the first song on the album. The dynamic duo smartly sing about the way that past generations have ruined our world, yet they attempt to tell us how to live our lives. It is a powerful song, but it is paired with fast, light music, making it seem like a pop classic, until you listen to the words. "American Dream" talks about the box we as a generation are put into, and the goals that are expected of us. The classic white picket fence, job, and family future are suddenly frowned upon in this breakfree song, which talks about the 'perfect' American dream taking too long to achieve, and being a fake energy consumer. In this perverse reality, "Jack left Diane thirty years ago."
This is the first album that has the power to impact our younger generations. It does so in a way that the message sneak's up on you. The beats and melodies are light and catchy, sounding like any other hit song. But the words have deep meaning to them, unlike most of the hits we adore today. This album is a true game-changer.