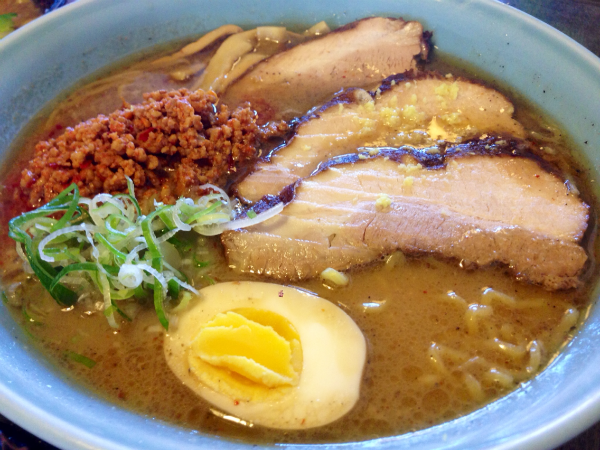 Ramen Sora
4490 Spring Mountain Road
Las Vegas, NV, 89102
Hours of operation: 1:30A.M-11P.M, seven days a week
Tucked into the inner workings of the Chinatown district is a little square building that is usually swarming with cars during all hours of the day. The building is Ramen Sora, harboring what is voted numerous times as the best traditional tonkotsu (a thick, high fat pork broth) ramen in the Las Vegas Area. Proudly being awarded for their authentic Japanese ramen from Sopporo, Japan, it's hard to go back to the top ramen packets in your pantry.
The building itself is perfectly square and quite small, but the inside is not cramped at all, almost feeling a little too open. Dark wooden furniture and Japanese decor creates the atmosphere of a traditional Japanese restaurant, while being out in the Nevada desert. On a back wall, the staff tshirts are also available to be bought by customers and also shirts for their sister restaurant, Sushi Twister.
We arrived on a Monday during lunch hour, expecting the seemingly always busy eatery to be less packed than usual. We thought wrong, with almost every parking spot taken in its little plot of land. Just two of us, the man working the front said it would be a 20 minute wait, which we easily complied to knowing their food was well worth it.
Although usually ridiculously busy, after being served you'd know why. After being seated the waiter, sporting Sora's Ramen Is Life tshirt, asked us for drinks and gave us the laminated menu. As a Sora veteran, I've watched their menu change over the years, but it never fails to impress with their artfully photographed ramen as it's selling point.
On the back of the menu, you are also able to see the other dishes they have available such as their gyoza (fried dumplings) chashu rice, different kinds of fried rice, or a side of their melt in your mouth pork slices. While their side dishes are mouthwatering enough, the real star is their award winning tonkatsu ramen. Having eight different kinds of ramen available, you can have a different one every day of the week such as the Deluxe "Sora" Ramen, a large over the top bowl for the newcomer with an appetite, or the Spicy Miso or Shio for a kick.
Ranging from just $7.50-$10.00 per bowl, the wait to be seated is probably the easiest wait of your life. Bowls of their infamous ramen can be also upgraded to extra large or you can order extra of their homemade toppings such as their incredible chashu (tender pork slices) or merma. You are also able to choose what kind of broth you want your noodles to be served with.
Ordering my go-to Chashu Ramen with Miso broth, the wait took no more than 10-15 minutes despite the crowd. The ramen arrived steaming hot and looking even better than the visual on the menu. With ever consistent quality of their incredibly thick broth and perfectly cooked noodles, you cannot be disappointed. If visiting, never forget that you can always ask for takeout from their incredibly friendly staff.
First timers will usually find themselves veterans of this popular Las Vegas restaurant, and their slogan 'No Ramen No Life' will be taken to another level. After such an experience here, you can find yourself saying No Sora No Life.