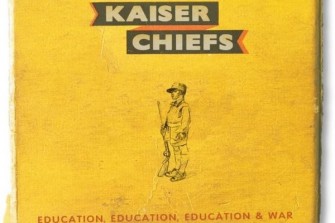 British indie rock band Kaiser Chiefs has recently released Education, Education, Education, and War, which extraordinarily covers themes of adventure, war, and rebellion. Ironically enough, their edgy lyrics of defiance and freedom clashes gracefully into a mix of both the future and past as the Kaiser Chiefs manifest a nostalgic sound of '60s beach music as well. Regardless of the band's cries of war, the guitar riffs and clever use of the organ bring an aura of relaxation and excitement.
Kaiser Chiefs formed back in 2000 in Leeds, England, previously known as Parva. The band consists of  guitarist Andrew "Whitey" White, keyboardist Nick "Peanut" Baines, bassist Simon Rix and Ricky Wilson on vocals. Until 2013, founder and drummer Nick Hodgson partook in the band. Since then, Vijay Mistry has respectively replaced Hodgson's role in the group. Still known as Parva, the band released their debut studio album, 22, by the Mantra Recordings label.
Education, Education, Education, and War has become the epitome of rebellion for its loud and energetic beats, and uplifting lyrics. Tracks such as "Bows and Arrows" and  "The Factory Gates" executes the longing of independence, while also incorporating energetic guitar riffs. Lyrics such as "I want it, just run out/ I wanted to feel good," in the album's first track inspires listeners to pursue their need for freedom, and to dance. Along with that, the lyrics "Together fighting/We're bows and arrows!/You and me on the front line/You and me every time," in "Bows and Arrows," also encourages themes of friendship, along with defiance and war. Each song on the album defines true rebellion while encouraging the listener to tap their feet.
Similar to the distinct sounds of The Last Shadow Puppets, Franz Ferdinand, and The Strokes, Kaiser Chiefs eloquently executes themes of friendship, war, and independence. Despite the controversial and underrated themes, Kaiser Chiefs can easily uplift a low mood by the clever use of upbeat percussion, rhythmic beats of the organ, and energetic guitar riffs. Tracks such as "One More Last Song" and "Roses" differ from the latter, for its lyrics that lay on a more personal and emotional level. Although Education, Education, Education, and War takes on an underground approach to the rock genre, the album boldly epitomizes the true meaning of adolescent defiance.