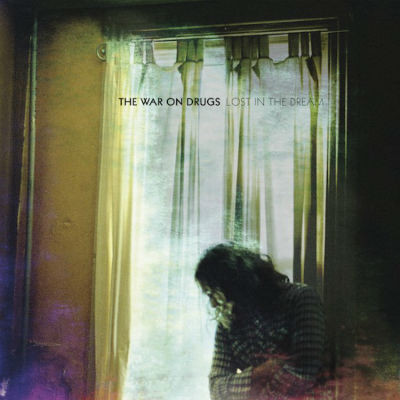 American indie rock band, The War on Drugs, released a new album, Lost in the Dream. The album incorporated '80s-esque beats with low-fi echoing acoustics that put me into a state of reminiscence'. Upon the recent release, the band's new LP had me moving the record's needle back to the beginning of the track on the vinyl repeatedly (I truly did).
The band was formulated back in 2005 in Philadelphia, PA, and was founded by guitarist and singer Adam Gruciel and Kurt Kile. However, after deciding to focus on his solo career, Kile departed shortly after their debut. Currently, the band consists of Gruciel on guitar and vocals, David Hartley on bass, Robbie Bennett on keyboard, and Patrick Berkery on drums. The band released their debut album, Wagonwheel Blues, in 2008 by record label Secretly Canadian.
The War on Drugs' third studio album revolves around themes regarding exhaustion, and being detached from reality. Significant tracks such as "Under the Pressure", "Red Eyes", and title track, "Lost in the Dream" eloquently exhibit these themes in a way that makes the listener want to relax. "Under the Pressure" reveals a story of one trying to maintain an easy life, all while attempting to not break under pressure.
Replicating the signature sounds of artists such as Morrissey, Bob Dylan, and Sonic Youth, The War on Drugs explores the depths of themes of melancholy and distance. Tracks such as "The Haunting Idle" and "Burning" summon the inner nostalgia of losing a loved one. With echoing light beats, the music mirrors the lyrics gracefully, and leaves the listener in a calm, free-spirited paradigm. Moderately quick songs such as "Red Eyes" encouraged the natural and relaxing aspect of the album, whereas tracks like "Suffering" were slow, the sadness seeping through the speakers and into the listener's ears.
On a grading scale of A-F, The War on Drugs' Lost in the Dream would land on an A, for its calming acoustics and simplistic lyrics. For best results, bring out the old record player, and place the needle on this newly released LP. Fans will find themselves marvelling over the band's third album.
[soundcloud url="https://api.soundcloud.com/tracks/122923868″ params="auto_play=false&hide_related=false&visual=true" width="100%" height="450″ iframe="true" /]