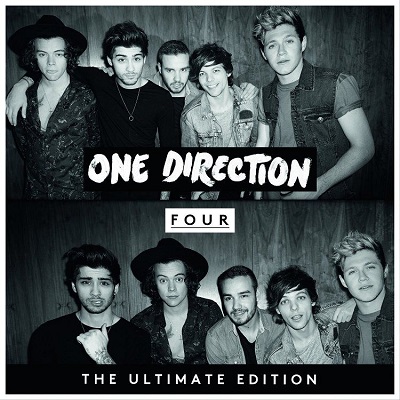 English-Irish boy band One Direction makes their comeback with "Four," a surprisingly catchy selection of songs that most teenage girls would marvel over. I've reviewed rock albums that angered my soul, video games that kept me up for hours, but never a mainstream pop group that most teens seemed to cry over. However, I must admit that I've been too busy being self-righteous and have been missing out on some undeniably miraculous music.
Formed back in 2010 on U.K'S X-Factor, the band consists of Harry Styles, Niall Horan, Zayn Malik, Liam Payne and Louis Tomlinson. Each member auditioned solo; however, they were put together to form a five-member boy band in order to qualify for the "Groups" category during the boot camp phase of the competition. After finishing in third place on the show, the five have been signed with Columbia Records.
The album introduces "Steal My Girl," which immediately sounds like a stereotypical song from a cliché boy band. It surprisingly defied all signs of "bubblegum-pop" music with melodic instrumentals and bittersweet vocals. Despite emerging in the epicenter of today's mainstream media, the song harbored an undeniable nostalgia and melancholy. Lyrics such as "She knows I've never let her down before/She knows that I'm never going to let another take her love from me now," are a concrete example that justifies the band's maturity. Teenage love is an amplified theme throughout all of their songs, but their ability to transform it into art with far more depth exhibits a sign of progression.
As a fan of '60s rock music, I never pictured myself listening to this five-membered ensemble in a lifetime. However, I soon found myself replaying "
Night Changes
" too many times to count, as the track tells the sappy story of staying in love. Lyrics like "Even when the night changes/It will never change me and you," are fairly simplistic, but definitely catastrophic to those with a delicate heart. As the album progressed, each track harbored the perfect balance of love and maturity, every single one of them becoming a personal
billet-doux
.
By the time the album had finally played its fading echoes and goodbyes, I had come to realization that I needed more of these edgy love songs; which took me more courage than I believed to admit. Compared to its predecessors, "Four" stands as the father of the band's repertoire, tearing down what was left of their "puppy-love" days and twisting it into the bittersweet reality of true love itself. Those attached to the group's signature sound may identify themselves as former fans, but because of this album, the band has gotten a new fan in the wake.