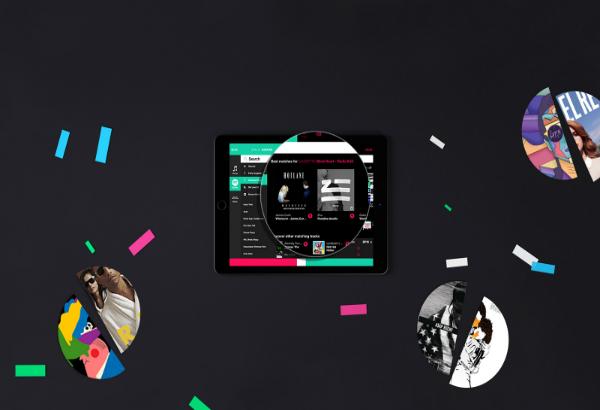 "Pacemaker" initially debuted as a portable DJ device that found fame in international music festivals. The minds behind the system, Jonas Norberg and Daniel Wallner, eventually decided to transform the concept into one that fit in with the technology culture of the modern timeframe. With special features such as equalizer effects and instant playlists, "Pacemaker" offers a realistic DJ experience in the form of a mobile application—minus the clunky turntables and complicated commands.
The app presented itself as dark and minimalistic which was definitely appealing to the eye, but there is such a thing as too much simplicity. Instructions to use the app were not provided, so I was forced to search up its functions on the app's website and fumble around with the controls before using it to its full potential.
"Pacemaker"'s major downfall is that you can only connect to Spotify if you have a premium subscription. After importing music from either your mobile device's library or Spotify, you are taken to the main interface where the music mixing magic takes place. The screen consists of a large circle that has your chosen song's album art inside, followed by smaller circles of similar songs that you can slide to view. In the center of the large circle is an 'fx' icon, which, when tapped, reveals various equalizer effects that you can add to the playback. The free options include treble, middle and bass, and there are other spots that can be filled with more effects, such as Hi-Lo, Reverb and 8-bit, that are available in the Pacemaker Store for 99 cents each.
Not only does the app put you in the shoes of a DJ, but it also opens doors to new music that corresponds with your taste. I tossed in Paramore's "Born For This" and received a playlist that contained similar songs such as "Milk & Black Spiders" by Foals and "Summer Well" by Interpol.
I am not one for DJing, but I found the effects feature to be entertaining. What was more interesting to me was the ability to play two songs at once. The music player itself had some kinks, such as the inability to stop songs and rewind tracks, but it is very versatile as it allows for background playback when using other apps or turning off your phone. Although not as extensive as Spotify or iTunes, "Pacemaker" makes for a worthwhile alternative for music streaming.
The app is free for iOS users, but there are more features on the iPad version, such as an interactive waveform that fluctuates depending on the intensity of the music, and the opportunity for more precise syncing of songs. Because "Pacemaker" provides an easier way to find music that aligns with your tastes (in comparison to Spotify, iTunes, Pandora, etc.), it is an app that all music junkies should invest in, as long as they can tolerate a few technical issues.